Fire Safety Activities Flip Up Book | Fire Safety Week Craft | Firefighter Craft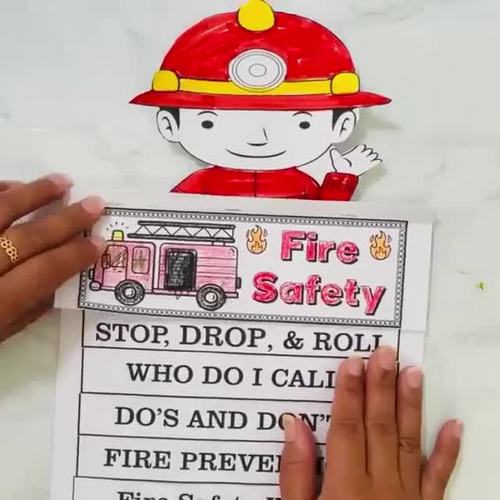 ;
Description
This Fire Safety Activities Flip Up Book | Fire Safety Week Craft | Firefighter Craft activities that are all in one place to teach your students all about fire safety and fire prevention. This fire safety flip book activity includes Coloring and writing! It is easy to create and super fun to learn about fire safety and fire prevention. Just print, fold, and staple! This fun packet is a great addition to your Fire Safety unit! The activities in this packet will reinforce fire safety concepts as well as give students scissors and coloring practice.
Do check these Editable Firefighter Hat with Auto-fill kids Name
Also have a look at Community Helpers- Who Am I? Digital Guessing Game| Virtual Fun Friday Games
THIS FIRE SAFETY FLIP UP BOOK INCLUDES:
Stop, Drop, and Roll
Who do I call?
Fire Prevention
Fire safety words
Fire Escape plan
Firefighter selfie
Firefighter coloring page
See this video on how to print and fold the Flip Up Books.
Also check my store for other BACK TO SCHOOL resources for Preschool and Kindergarten :
Note: This file is for ONE classroom use only. Please do not share the link with others or post on a public class website.
____________________________________
Customer Tips:
Click this link to Follow Me on TPT. This will keep you updated on future products and freebies.
Subscribe to my Newsletter to get updates on Upcoming Sales, New Resources and Updates to your purchased resources.
Click this link to Follow Me on Facebook! I post about freebies and discount coupons there.
You can earn TpT Credits by leaving ratings and reviews on your purchases. For every $1 you spend on TpT, you can earn 1 credit. Every 20 credits earned equals $1 you can apply to future TpT purchases.
Report this resource to TPT