First Grade Digital Exit Tickets GROWING Bundle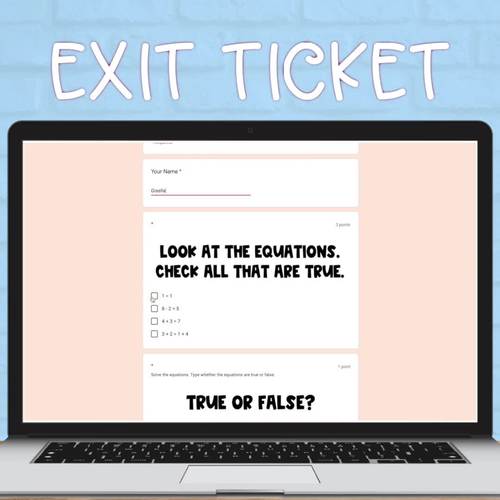 ;
Zip

Google Apps™
Includes Google Apps™
This bundle contains one or more resources with Google apps (e.g. docs, slides, etc.).
What educators are saying
These were a great resource when I had students on distance learning and still use them as an option now that we are back in person.
This resource made checking my students' understanding of the math lessons very quick and easy! Awesome, helpful resource!!
Products in this Bundle (6)
showing 1-5 of 6 products
Bonus
Unknown Addends Digital Exit Ticket
Description
Are you looking for an interactive and digital way to assess your students on first grade math standards? These completely virtual Exit Tickets are for Google Forms. They can be pushed out to students even at a distance! It is the perfect and easy way to quickly assess students! The best part is this will auto-grade themselves and break down data into class trends and individual students! There are tons of different question types for students including: Multiple Choice, Short Answer, Drop Down, and Checkboxes. Not only do you get immediate feedback but so do the students! These are also completely editable to change and adapt to meet your needs! You can learn more about the awesome features of Google Forms HERE!
Looking for Kindergarten Exit Tickets? You can find those HERE!
*If you would like a CUSTOM BUNDLE please email me at lindsaynsauer@gmail.com*
RESOURCES INCLUDED IN THE GROWING BUNDLE:
Unknown Addends - Included Free
Mixed Practice - COMING SOON
Word Problems - COMING SOON
Time - COMING SOON
Data - COMING SOON
Measurement - COMING SOON
2 Digit Addition - COMING SOON
Shapes - COMING SOON
Fractions - COMING SOON
INCLUDED IN RESOURCE:
5-8 Questions for Quick Formative Assessment
Different Engaging Question Types (see above)
Completely Editable for You to Add and Change Assessment
Auto Graded
OTHER DIGITAL MATH RESOURCES:
TRY BEFORE YOU BUY!
Click here to try a FREEBIE!
QUESTIONS OR CONCERNS
Email me at lindsaynsauer@gmail.com if you have any questions or concerns about this product. If you are not sure that this product will work for you, please check out one of the freebies. Keep in mind that the preview shows you what the game is going to look like.
Click the Green ★ to follow my store and get notifications when new resources arrive including freebies! New products are always 50% off for the first 24 hours they are posted!
I'd Love to Connect!
CUSTOMER TIPS
How to get TPT credit on future purchases: Please go to the MY PURCHASES page. Under each purchase, you will see a PROVIDE FEEDBACK button. Click on it, leave feedback, and then you will receive credits for your purchase that you can use on future items (AS IN FREE MONEY to use on TPT)! I do read all the feedback! I can't respond to all of them, but I do value your feedback!
Thank you!
Lindsay Sauer ❤️
Report this resource to TPT
Standards
to see state-specific standards (only available in the US).
Compose and decompose numbers from 11 to 19 into ten ones and some further ones, e.g., by using objects or drawings, and record each composition or decomposition by a drawing or equation (e.g., 18 = 10 + 8); understand that these numbers are composed of ten ones and one, two, three, four, five, six, seven, eight, or nine ones.
Count to 120, starting at any number less than 120. In this range, read and write numerals and represent a number of objects with a written numeral.
Understand that the two digits of a two-digit number represent amounts of tens and ones. Understand the following as special cases:
10 can be thought of as a bundle of ten ones - called a "ten."
The numbers from 11 to 19 are composed of a ten and one, two, three, four, five, six, seven, eight, or nine ones.