First Grade Goals - Awards Parent Teacher Conferences Setting Goals Report Cards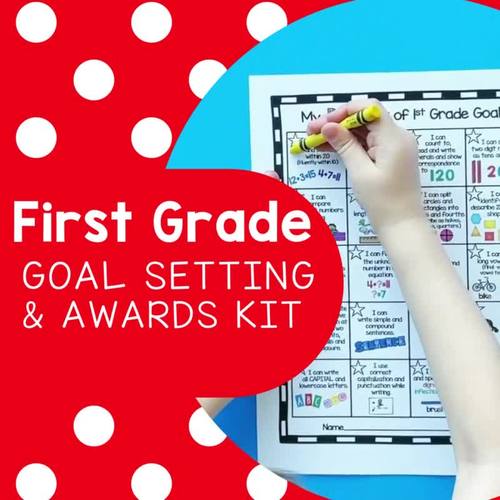 ;
Description
This adorable incentive kit will motivate your students to work hard and reach their goals! This is a wonderful tool to use at parent teacher conferences to keep families informed of our academic standards in first grade.
CLICK HERE TO SEE THIS KIT ON THE BLOG AND TRY A FREEBIE
♥ Please note that this incentive chart does not cover all of the first grade standards. I chose 20 important reading, math and writing goals I want all my students to master before completing first grade.
♥ Each students receives a goal chart. I display them on a bulletin board and/or create a goal folder for every child. When students master a skill, they get to color the star in that box. I personalize an award with their name that they can take it home to show their families.
♥ I also send a chart home to keep parents and families involved. They know which standards their child has mastered and which skills they still need to work on. Children are thrilled to watch their stars slowly fill in throughout the school year. This is a wonderful incentive tool for them to work hard and master these skills!
♥ Informing parents of the standards their child is expected to master is incredibly important! I include a letter that explains how our goal charts work.
------------------------------------------
THIS BUNDLE INCLUDES
------------------------------------------
♥ My BIG First Grade Goals Chart in color and BW
♥ Editable Goals Chart
These come in color, BW and a blank version with no pictures.
You can translate to a different language, or change the wording of the goals.
With the totally blank chart (no pictures) you can make you own goals chart!
♥ Jumbo 16x20 Poster
You can print at a photo center and display as a poster in your classroom.
♥ Color Awards
Two print per page - personalize these for students by writing their name on their awards and passing them out when they reach their goals!
♥ Black and White Awards
Four print per page.
♥ Editable Parent Newsletter
Explain to parents how this goal setting kit works, and then keep them updated throughout the year on their child's progress!
------------------------------------------
EDITABLE PRODUCTS
------------------------------------------
Basic editing directions are included for the editable PDF files.
Open the PDF in Adobe 11 Reader to edit.
Edit and print as many times as you like!
Pictures cannot be added to the editable PDFs.
I also included JPG versions that can be dragged into an editing program of your choosing. I do not include directions for doing this, so please be sure you know how to use these kinds of programs. You can add your own text boxes and pictures on top of the JPG files in most programs!
CLICK HERE for the Kindergarten goal kit
CLICK HERE for the Pre-K goal kit
♥♥♥ LET'S BE FRIENDS! ♥♥♥
READ MORE ABOUT COMMON CORE/CREDIT
Report this resource to TPT
Standards
to see state-specific standards (only available in the US).
Express the length of an object as a whole number of length units, by laying multiple copies of a shorter object (the length unit) end to end; understand that the length measurement of an object is the number of same-size length units that span it with no gaps or overlaps.
Tell and write time in hours and half-hours using analog and digital clocks.
Understand that the two digits of a two-digit number represent amounts of tens and ones. Understand the following as special cases:
The numbers from 11 to 19 are composed of a ten and one, two, three, four, five, six, seven, eight, or nine ones.
The numbers 10, 20, 30, 40, 50, 60, 70, 80, 90 refer to one, two, three, four, five, six, seven, eight, or nine tens (and 0 ones).