First Grade Summer Packet | From 1st grade to 2nd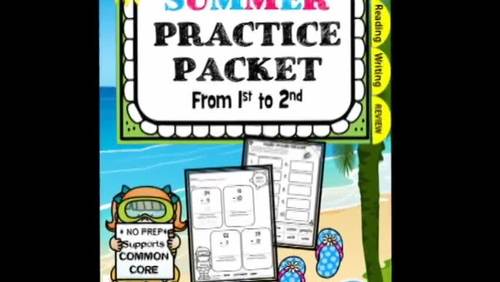 ;
Easel Activity Included
This resource includes a ready-to-use interactive activity students can complete on any device. 
Easel by TPT is free to use!
Learn more
.
What educators are saying
The parents were really happy when these came home right before summer break! Thank you for sharing this!
Great resource to give students over the summer. I had several parents ask for resources and this was perfect for that!!
Also included in
Are you looking for a PRINT and GO packets for your students to use over the summer with their parents or tutors? I have you covered with these packets! This download is a BUNDLE of 6 packets including Pre-K through 5th Grade. Check out the preview.●●●●●●●●●●●●●●●●●●●●●●●●●●●●●●●●●●●●●●●●●●●●●●●●●●●

Price $38.40

Original Price $48.00

Save $9.60
Description
Are you looking for a PRINT and GO packet for your students to use over the summer with their parents or tutors? I have you covered with this math and literacy skills packet! Check out the preview.
●●●●●●●●●●●●●●●●●●●●
❀ How to use this packet…
►Each one of these activitiesin this packet is designed to prepare and review skills your child should know to enter 2nd grade. They relate to the Common Core Standards. On several pages, you can find the standard number, (e.g. "1.OA.4") to help you find more online support for the standard.
The activities can be explained by the adult, but formost pages it should not be necessary since it is a review. Children should be able to complete most activities independently. If you are using this packet for a kindergartener, be prepared to spend a lot of one on one time with your child helping them with the concepts.
I recommend setting a 20 to 30-minute block of time for your child daily to work on these activities. They should enhance their vacation!
Print out pages. 3-90 and as needed, reprint the Weekly Summer Journal.
It includes tips for parents and helpful suggestions.
Contents:
Pg. 1 Cover
pg. 2. How to use this packet and Parent Tips
pg.3 Oral and physical activity suggestions
pg. 4 Reading Log
Pg. 5 & 6 Sight Word List
Pg. 7-11 Sight Word SMASH Review Activities
pg.12-19 Write, Read and Draw Word Family practice (CVC, CVCC)
pg. 20- 24 ABC Order Printables
pg. 25-26 Correcting Sentences
pg. 27-32 Comprehension
pg. 33 Verbs and Nouns
pg. 34 Common and Proper Nouns
pg. 35 Long and short Vowel Words
pg. 36 Adjectives and nouns
pg. 37 Singular and Plural Nouns
Pg. 38 Singular and plural nouns
pg. 39 Past Tense Verbs
pg. 40 Sticker Story
Pg. 41-42 Opinion Writing
Pg. 43-44 Narrative Story Writing
Pg. 45-46 Informative Writing
pg. 47-56 Summer JOURNAL
pg. 57-60 Math Addition and Subtraction
Pg. 61-64 10 More, 10 Less
pg. 65 100 Gumballs counting
pg. 66 Comparing Lengths
pg. 67-70 Counting COINS
pg. 70-82 NUMBER Bonds
pg. 83-86 Shapes
pg. 87-89 Time to the half-hour and hour
pg. 90 Place Value Fun Bracelets
pg. 91 Credits
CREDITS:
Related Products
☀️ End of the Year Summer Packet Pre-K to Kindergarten
☀️ End of the Year Summer Packet For KINDERGARTEN to 1st Grade Review
☀️ End of the YEAR Summer Packet From 1st grade to 2nd
☀️ Summer Packet for 2nd Grade to 3rd Grade
☀️ End of the Year Summer Packet for 3rd Grade to 4th Grade
●●●●●●●●●●●●●●●●●●●●●●●●●●●●●●●●●●●●●●●●●●●●●●●●●●●●●UPDATED
Copyright © 2020 Teacher's Brain
All rights reserved by author.
How to get TPT credit to use on future purchases:
• Please go to your My Purchases page (you may need to login). Beside each purchase you'll see a Provide Feedback button. Simply click it and you will be taken to a page where you can give a quick rating and leave a short comment for the product. Each time you give feedback, TPT gives you feedback credits that you use to lower the cost of your future purchases. I value your feedback greatly as it helps me determine which products are most valuable for your classroom so I can create more for you. ☺
Be the first to know about my new discounts, freebies and product launches:
• Look for the green star next to my store logo and click it to become a follower. Voila! You will now receive email updates about this store.
☺ First 24 HOURS of new products over $1 are ½ off!
➤Follow my Teacher's Brain BLOG
Teaching Duration
2 months
Report this resource to TPT