First Grade Writing Lessons | Daily Writing Practice Journals | Yearlong Bundle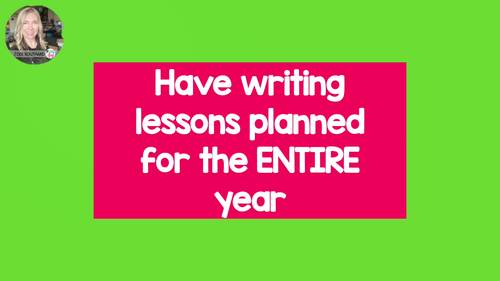 ;
What educators are saying
Excellent resource! This unit completely changed my writer's workshop. I love the daily slides, examples, and workbook pages for each lesson. Well done! Thank you!
My students and I love this resource! It is so easy to use with little teacher prep needed. Great product.
Products in this Bundle (9)
showing 1-5 of 9 products
Description
Do you struggle to find time to teach first grade writing lessons? Teaching 1st grade writing in time-saving mini lessons will make daily writing practice attainable! These 1st grade writing lessons will allow your students to spend more time actually writing during your daily writing practice block! This YEARLONG writing bundle will take the guesswork out of planning and make teaching first grade writing a breeze! Each month includes 20 mini lessons for daily writing practice as well as 1st grade writing journals for each month! 
⭐️Imagine how good it will feel to have your entire year of writing instruction planned and ready for you with this yearlong writing bundle!⭐️
Simply project this resource on your classroom screen to select a mini lesson for simple, effective daily, 1st grade writing practice! Each lesson walks you through the mini lesson, and then gives the students a writing activity to complete. 
1st Grade Writing Lessons | Daily Writing Practice Journals | Yearlong Writing Bundle Includes EVERYTHING you need for daily writing practice in your first grade classroom! 
Included in the Yearlong Writing Bundle you will find:
20 writing mini lessons for each month (180 lessons in all) as well as a printable 1st grade writing journal to go along with the mini-lessons for that month.  Students will be exposed to writing narratives, persuasive writing, informative writing, opinion writing, descriptive writing, poetry, writing conventions, writing letters, and much, much more.
Teacher's Guide for the daily lessons.
This bundle also includes an exclusive set of half-sheet parent letters that tell what the writing skills are for each month.  These can be stapled to the student writing journal before you send them home each month.
How do I use these 1st Grade Writing Lessons in my classroom?
The mini lesson format allows for you to teach a quick, daily writing practice lesson to your students, and then give them time to complete their own writing.  Simply print the writing journal for each month for the students and you are all set.  These lessons can be taught in a whole group or small group setting. This also works well for distance learning if needed.
Who can use these Daily Writing Practice Journals and Lessons?
This particular packet is geared towards 1st grade, but could possibly be used in a kindergarten or 2nd grade classroom.
See What Other Teachers are Saying About 1st Grade Writing Lessons | Yearlong Writing Bundle:
⭐ This is the most effective, systematic approach to teaching a year of writing that I have seen. I used it during face-to-face instruction and virtually and the product was equally effective for both situations. This is my favorite teaching resource I have bought on TPT because I am able to use it every day, in it's entirety and it is extremely effective.
⭐I can't believe what an amazing resource this is! It literally is just print and go. My whole year of writing is done for me. And the best part is that the lessons are super engaging for my class. I have only been using this for a month, but can already see an improvement in my kids' writing skills! Thank you!
⭐ I am loving using these lessons with my first graders. So far the lessons have touched on so much that my firsties need to know to become better writers. These lessons have really stepped up my writing curriculum. Thank you!
More Fun and Engaging Resources from Jodi Southard @ Fun in First!
Follow me on TpT:
Be the first to know about new products, sales, and freebies.
Look for the ★green star★ next to my store logo and click it to become a follower.
Connect with Me
Visit my blog at www.funinfirst.com
Copyright © Jodi Southard
Permission to copy for single classroom use only.
Please purchase additional licenses if you intend to share this product.
Report this resource to TPT
Standards
to see state-specific standards (only available in the US).
Write opinion pieces in which they introduce the topic or name the book they are writing about, state an opinion, supply a reason for the opinion, and provide some sense of closure.
Write informative/explanatory texts in which they name a topic, supply some facts about the topic, and provide some sense of closure.
Write narratives in which they recount two or more appropriately sequenced events, include some details regarding what happened, use temporal words to signal event order, and provide some sense of closure.
With guidance and support from adults, focus on a topic, respond to questions and suggestions from peers, and add details to strengthen writing as needed.
Participate in shared research and writing projects (e.g., explore a number of "how-to" books on a given topic and use them to write a sequence of instructions).