First Week of School Complete Science Bundle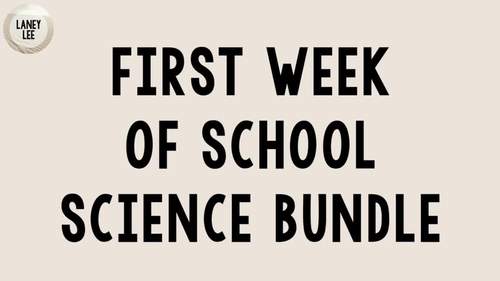 ;
Zip

Google Apps™
Includes Google Apps™
This bundle contains one or more resources with Google apps (e.g. docs, slides, etc.).
Easel Activities Included
Some resources in this bundle include ready-to-use interactive activities that students can complete on any device. 
Easel by TPT is free to use!
Learn more
.
What educators are saying
My students loved this! I am sad that I switched positions and only got to use some of the great resources.
A great mix of into teaching materials and fun activities. My students loved the opportunity to experiment right away!
Products in this Bundle (8)
showing 1-5 of 8 products
Description
If you're new to education or maybe just to teaching science, and you're feeling a little lost or overwhelmed, then this bundle is for you! I've compiled everything you'll need to get through at least the first week of school successfully!
Classroom Management
Everyone knows you can't start the year without a solid foundation classroom management and classroom procedures. I've included this Policies and Procedures presentation, which includes lots of teacher tips to make sure you're covered on that front!
10 years into my career, I still use this presentation every single day to review and practice procedures.
Team Building
Break the ice and get to know your students with some hands on activities that connect to the curriculum!
Tower Building Engineering Activity - Students design and build towers out of spaghetti noodles and marshmallows or aluminum foil. They examine how the Engineering Design Process is used throughout the process.
Dog, Goose, and Bag of Corn Activity - A hands on problem solving activity where students look at how the scientific method is applicable for solving any kind of problem, not just science!
Whale Band-Aid Activity - Applying the scientific method, students work as a team to find a way to flip over a small bedsheet or large piece of fabric while the whole team stands on it.
Teach
I love to start the year with a fun investigation into what exactly scientists are! This student practice will be sure to get your students talking and engaged with the curriculum:
What is a Scientist? - designed to show students that anyone can be a scientist! Students will reflect on what scientific qualities they already have and can develop.
Next, use these interactive Google Slides presentations to build a strong foundation in the discipline of science. These presentations are designed with tons of opportunities for student interaction and feedback to make sure that you don't end up standing in the front of the room talking until your throat is sore.
Who are these resources for?
These resources can be used by classroom teachers, tutors, and parents of students in grades 6-9. They comprehensively cover the topics mentioned, and provide a variety of practice opportunities to suit learners of all different levels and learning styles. 
They are ideal for teachers who teach in person.. Digital versions are included with all resources to make lesson planning a breeze! 
What's Included?
Most of the resources in this bundle will be downloaded as a PDF file in color. If a digital file is connected to that resource, as it is in most cases, you will find the link in a large font on page 2 of the PDF. For resources that are printer friendly, the remaining pages of the PDF can be printed and copied. All relevant resources include an answer key at the end of the file. 
I do not use zip files, instead I package my resources in PDFs as a single document from start to finish. Make sure to scroll through the entire resource if you're looking for an answer key or alternate version!
Please take a look at the individual product preview files to see more of the resources included in this bundle.
For questions and support:
Check out our Frequently Asked Questions or email me at laneyleeteaches@gmail.com.
----------------------------------------------------------------------------------------------------------------------------
Need more?
If you're a new teacher, or looking to add to your toolbox, I've also created a comprehensive Classroom Management Handbook packed with strategies you can implement tomorrow.
Check out my Nature of Science Bundle with more interactive lessons that are perfect for the beginning of the year.
Add on my Early Finishers Digital Choice Board for Science or the Early Finishers Digital Choice Board For All Subjects to ensure that you never have to answer the "What do I do now?" again!

----------------------------------------------------------------------------------------------------------------------------
To stay updated on sales and new products, please follow my store:
Connect and chat with me!
Report this resource to TPT