Fish in a Tree Novel Study with digital access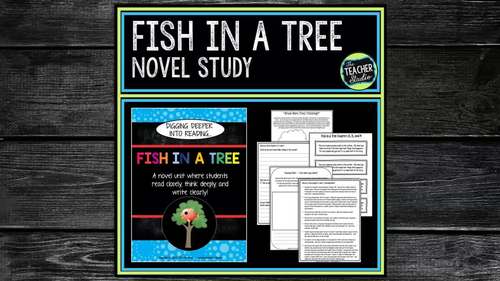 ;
PDF

Google Apps™
Includes Google Apps™
The Teacher-Author indicated this resource includes assets from Google Workspace (e.g. docs, slides, etc.).
What educators are saying
Great resource that got students thinking! Was an easy resource to use an educator as teaching suggestions were clear and easy to follow. Thanks very much.
I spent over an hour analyzing different novel resources for my favorite, Fish in a Tree. This resource checked all of the boxes I had! You won't regret the purchase!
Also included in
Check out this TWO PART bundle to help you get the most out of the amazing novel, Fish in a Tree! Part 1: A full novel study complete with teaching points, comprehension questions, and so much more!Part 2: An "After you read" companion to provide even more opportunities for comprehension, discuss

Price $10.75

Original Price $12.75

Save $2.00
Description
Have you read "Fish in a Tree" yet? You must! This novel unit is a little different than others out there… there aren't a ton of "fill-in-the-blank" pages… vocabulary in isolation… quizzes… worksheets... or projects. Instead, it helps you dig into "Fish in a Tree" at just the right level of rigor for upper elementary students.
Now it includes DIGITAL slides as well so you can send responses to your students online.
It is filled with suggested teaching points and reflection questions (in three formats—full page reproducibles, "clippable" versions to glue into reader's notebooks, and digital slides)--all meant to help you help your students dig into this amazing book.
Want great activities? READ ON!
This resource is meant to nurture discussion, "close reading", and proving ideas by citing text evidence. If you are looking for an in-depth resource to use with small groups, a class read aloud, or to support individual students with quality instruction and deep thinking—you've come to the right place! My goal is to help teachers nurture a love of reading and talking and writing about books!
What do you get?
*Full page reproducible copies of open ended, constructed response comprehension questions focusing on key plot elements, deeper thinking, and proving ideas with examples in the text for EACH chapter—providing students the opportunity to show their understanding and to give them a way to organize their thinking for discussions. Fish in a Tree is a book that can be read on so many levels--and this resource can help you.
*The same questions or "prompts" in a format that makes it easy to cut and glue into notebooks.
*The same prompts with DIGITAL access so send to your students using technology.
* A sample response checklist to help you assess and to help students recognize the level of expectations required of their work
* A page of teaching "tips" and suggestions. After using this book with students many times, I have gathered a collection of "things to notice", places where students sometimes struggle, and other literary elements that I like to highlight with the text.
*A list of grade 4 and grade 5 CCSS connections to see how this book can help meet the requirements of the CCSS or other rigorous standards
* A set of "bonus" response pages that can be used with this resource to cover certain areas in more depth, to use as assessments or as enrichment, or to extend the learning further
* A set of graphic organizers to provide even more ways to help students show their deeper thinking about the text
I hope you enjoy this Fish in a Tree resource--and other novel units in my store.
"**************************************************************************
***What are teachers saying about this resource?***
"I think the best part of your novel study is the teaching points for each chapter. You have really put a lot of thought into these and they are not typical reader response questions. Thank you for your insight!"
"A fantastic resource for a fantastic book! Thank you so much- You really provided excellent points and conversation starters."
"So thought-provoking and a great tool to use to prompt the deeper topics of this book chapter by chapter! Love it!"
**************************************************************************
------------------------------------------------------------------------------------------------------
Looking for more high quality literature resources?
Historical Fiction Unit for Any Text
Sarah Plain and Tall Novel Unit
------------------------------------------------------------------------------------------------------
All rights reserved by ©The Teacher Studio. Purchase of this resource entitles the purchaser the right to reproduce the pages in limited quantities for single classroom use only. Duplication for an entire school, an entire school system, or commercial purposes is strictly forbidden without written permission from the author at fourthgradestudio@gmail.com. Additional licenses are available at a reduced price.
Report this resource to TPT
Standards
to see state-specific standards (only available in the US).
Determine a theme of a story, drama, or poem from details in the text; summarize the text.
Describe in depth a character, setting, or event in a story or drama, drawing on specific details in the text (e.g., a character's thoughts, words, or actions).
By the end of the year, read and comprehend literature, including stories, dramas, and poetry, in the grades 4–5 text complexity band proficiently, with scaffolding as needed at the high end of the range.
Compare and contrast two or more characters, settings, or events in a story or drama, drawing on specific details in the text (e.g., how characters interact).
By the end of the year, read and comprehend literature, including stories, dramas, and poetry, at the high end of the grades 4–5 text complexity band independently and proficiently.