Flat Stanley Project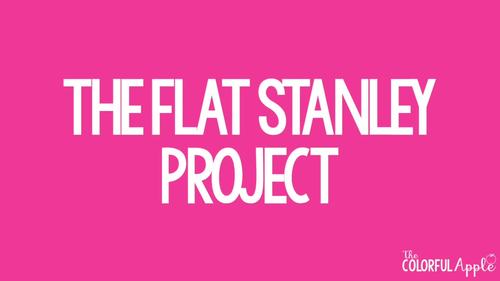 ;
Description
This Flat Stanley project is an engaging integrated unit for your students! This unit has everything you need to mail your own Flat Stanley projects around the world. Your students will love getting mail (and won't even know they are learning)!
This Common Core aligned resource also includes Flat Stanley comprehension questions, vocabulary words and graphic organizers to help students understand the novel.
This makes for a great activity for students! Students will create their own Flat Stanley printable to mail to friends/family across the world. In the process, they will be learning geography skills as well.
This Flat Stanley resource includes:
Flat Stanley Comprehension Questions: a packet of questions for students to answer as they read the story (answer key included).
Vocabulary: students will look up the definitions of challenging words as they read through the novel.
Flat Stanley Activities: graphic organizers and writing prompts for students to show their understanding of the story.
Flat Stanley Project:
template for students to create their own Flat Stanley
letter to parents, explaining the project
letter to Flat Stanley recipients, asking for their help
blank templates for students to write their own letters
state/country facts form for recipients to fill out
thank you cards for recipients
Travel Journal for Flat Stanley
maps and information charts for students to keep track of Flat Stanley's travels
This Flat Stanley project includes many photo examples, ideas and teacher directions throughout the resource to guide you through the project. Your students (and their families) will have a wonderful time interacting with Flat Stanley!
Keep your teaching colorful,
Sara :)
_ _ _ _ _ _ _ _ _ _ _ _ _ _ _ _ _ _ _ _ _ _ _ _ _ _ _ _ _ _ _ _ _ _ _ _ _ _ _ _ _ _ _ _ _
Looking for more geography and writing activities to go along with this Flat Stanley resource?
_ _ _ _ _ _ _ _ _ _ _ _ _ _ _ _ _ _ _ _ _ _ _ _ _ _ _ _ _ _ _ _ _ _ _ _ _ _ _ _ _ _ _ _ _
Connect with me!
Report this resource to TPT
Standards
to see state-specific standards (only available in the US).
Ask and answer such questions as who, what, where, when, why, and how to demonstrate understanding of key details in a text.
Use information gained from the illustrations and words in a print or digital text to demonstrate understanding of its characters, setting, or plot.
Determine the meaning of words and phrases as they are used in a text, distinguishing literal from nonliteral language.
Analyze how and why individuals, events, and ideas develop and interact over the course of a text.