Flight Complete Unit Bundle - PowerPoint Lessons, Worksheets & Assessments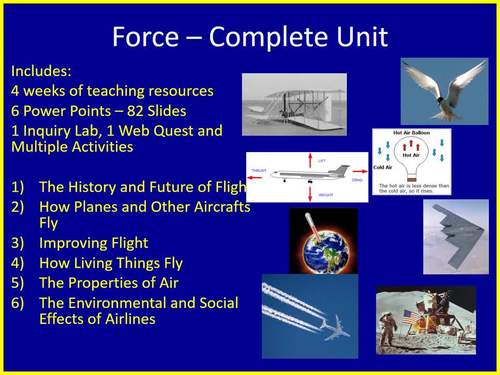 ;
Products in this Bundle (7)
showing 1-5 of 7 products
Description
This complete unit package includes a full lesson set for a complete unit on Flight. Save over 65% by purchasing this unit vs. purchasing the resources individually.
Included in the package:
- 4 weeks of teaching material
- 6 Power Points totaling 82 slides
- Flight - Bell Ringers, Class Warm-Ups, and Exit Tickets Bundle**
- 1 Lab Station Activity
- 1 Inquiry Lab on Airplane Design
- 1 Web Quest
- Multiple Activities built into the lessons
- Teacher and student versions of each PowerPoint
- Student notes in word
_____________________________
Buyer Comments:
- "This is an amazing unit! My students were engaged and I really enjoyed teaching this unit. Thank you so much for all of your hard work."
- "Great basis for Flight, add some experiments and its even better!"
- "What an amazing resource! Thank you so much for putting this together!!"
- "This has been a wonderful resource for our Flight Unit that we teach. It is very comprehensive. I would recommend it for others."
- "Wow! I can't wait to use this. I love that this resource is so hands-on."
- "Great resource! Well organized and lots of expectations covered."
- "Great unit! Really helped me to revise my air & space unit. "
- "Excellent unit! Saved me so much work! Thank you!"
- "amazing! One of the best things I've bought from tpt "
_____________________________
Lessons Include:
Lesson 1 - The History and Future of Flight
Lesson 2 - How Planes and Other Aircraft Fly
Lesson 4 - How Living Things Fly
Lesson 5 - The Properties of Air
Lesson 6 - The Environmental and Social Effects of Airlines
I've also put together a unit collection comprised of my Space Unit, Flight Unit, Ecology and Ecosystems Unit, and Electricity Unit: Current and Static. You can find it by CLICKING HERE.
---------------------------------------------------------------------------------------------
More Buyer Comments:
- "This unit has saved me. It is comprehensive, easy to use, and very thorough. I love the embedded videos that give the students a clear visual of the concepts that are presented. Thank you so much! I'll be checking your other resources for sure. "
- "Fantastic for Ontario curriculum! Thanks!"
- "Wow!! Amazing resource. It is so well put together and amazing to use. Thank you!!"
- "Very useful addition to help teach the grade 6 Flight unit here in Ontario!"
- "This is a great resource, is entertaining to kids, and is clear and concise. Embedded videos are great! Thank you so much!"
- "Fantastic - so thorough and well organized! I could create these, but it would take me forever - I am so grateful to not have to reinvent the wheel. Thanks for the great resource!"
- "Thank you so much for such a comprehensive and user friendly resource!"
- "Absolutely everything I needed! Kids loved the Web Quest!"
- "Just finished the unit on Flight and used this in my classroom. It was very helpful!"
----------------------------------------------------------------------------------------------
This file is in .zip format. All that means is you download the lesson package as one file (.zip) and then double-click it to extract it. No additional software is needed, your PC or Mac will do all the work. Please view the Preview File to obtain a sense of my style, see how my PowerPoint lesson is structured and evaluate my work. If you are not 100% happy with what you purchase, I will refund your entire purchase price via PayPal. To access the video(s), begin the slideshow and click the image of the video player. A new window will open up taking you directly to the video.
The student version of each lesson contains multiple blanks that need to be filled in throughout the lesson. These blanks are conveniently underlined and bolded on the teacher copy. I have found this to be the most effective means of keeping my students engaged and active without having them write everything out. This also leaves more time for discussion and activities.
Buyer Comment: "Awesome product!"
If you're into physics and would like to save some money, please consider my other units below as well as my Mega Physics Bundle where you save 72%, my Physical Science Lab Station Activity Bundle as well as my Physics - Single and Multi-day Activity, Project, Task Card and Lab Bundle
Grade 12 Physics **More lessons coming soon**
Grade 11 Physics
• Waves and Sound Complete Unit
• Work, Energy and Power Complete Unit
Other Grades:
• Space: The Study of the Universe Unit
• Optics: The Behavior of Light Unit
• Electricity Complete Unit - Current and Static Electricity
I also have a range of assignments and lessons/units from other grade levels at my store.Please CLICK HERE to have a look around and don't forget to follow if you like what you see.
Also, please visit my blog Teach With Fergy for my thoughts on teaching, learning and everything in between.
Teaching Duration
1 month
Report this resource to TPT
Standards
to see state-specific standards (only available in the US).
Develop a model to describe the cycling of matter and flow of energy among living and nonliving parts of an ecosystem. Emphasis is on describing the conservation of matter and flow of energy into and out of various ecosystems, and on defining the boundaries of the system. Assessment does not include the use of chemical reactions to describe the processes.
Ask questions to clarify evidence of the factors that have caused the rise in global temperatures over the past century. Examples of factors include human activities (such as fossil fuel combustion, cement production, and agricultural activity) and natural processes (such as changes in incoming solar radiation or volcanic activity). Examples of evidence can include tables, graphs, and maps of global and regional temperatures, atmospheric levels of gases such as carbon dioxide and methane, and the rates of human activities. Emphasis is on the major role that human activities play in causing the rise in global temperatures.
Construct an argument supported by evidence for how increases in human population and per-capita consumption of natural resources impact Earth's systems. Examples of evidence include grade-appropriate databases on human populations and the rates of consumption of food and natural resources (such as freshwater, mineral, and energy). Examples of impacts can include changes to the appearance, composition, and structure of Earth's systems as well as the rates at which they change. The consequences of increases in human populations and consumption of natural resources are described by science, but science does not make the decisions for the actions society takes.
Plan an investigation to provide evidence that the change in an object's motion depends on the sum of the forces on the object and the mass of the object. Emphasis is on balanced (Newton's First Law) and unbalanced forces in a system, qualitative comparisons of forces, mass and changes in motion (Newton's Second Law), frame of reference, and specification of units. Assessment is limited to forces and changes in motion in one-dimension in an inertial reference frame, and to change in one variable at a time. Assessment does not include the use of trigonometry.
Define the criteria and constraints of a design problem with sufficient precision to ensure a successful solution, taking into account relevant scientific principles and potential impacts on people and the natural environment that may limit possible solutions.