Flower Shop and Garden Shop Dramatic Play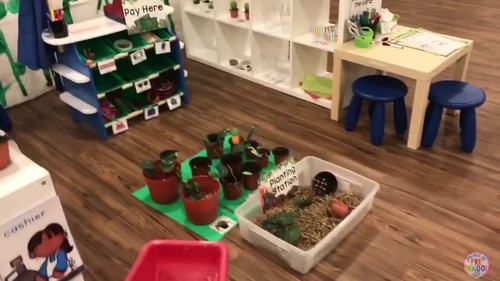 ;
What educators are saying
The kids LOVED this dramatic play set up! It's so much fun to use the different set ups to get them playing and exploring more! Love these play ideas, thank you!
My student's really enjoyed the dramatic play center was set up as a flower shop, this resource made it very easy to set up!
Also included in
Dramatic Play MEGA Bundle includes 24 themes including Home Living, Space Station, Ice Cream Shop, Bakery, Grocery Store, Ice Skating Rink, Birthday Party, Farm, Pet Store, Aquarium, Camping, Pizza Shop, Vet (aka Animal Hospital), Auto Shop, Zoo, Pumpkin Patch, Fire Station, Construction Site, Dinos

Price $98.00

Original Price $148.00

Save $50.00

Are you ready for an amazing school year? I've got all the printables you need to have a successful school year. Every Pocket of Preschool bundles and individual resources on TpT is included in this HUGE Curriculum pack: Assessments, Student Portfolios, Character Education and Social Skills, Math an

Price $750.00

Original Price $1491.00

Save $741.00
Description
Flower Shop Dramatic Play and Garden Shop is a fun theme you can do in your pretend or dramatic play center in the spring or when you are learning about plants. A teacher planning web breaks the theme down, week by week and includes a book list. There are labels and real classroom photos showing how to set up your flower shop or garden shop in your dramatic play center. Just print the labels, signs, and make the props. This theme integrates social, math, language, literacy, STEM, science, and fine motor all into their play! This is a theme/unit designed for a preschool, pre-k, or kindergarten classroom.
You can use this pack to either create a FLOWER SHOP or a GARDEN SHOP in the dramatic play center!
Bundle and SAVE! Get this product along with ALL of my other dramatic play themes in my Dramatic Play Bundle for Preschool, Pre-k, and Kindergarten
Included:
• Spring Theme Teacher Planning Web
• Flower Shop Parent Note and Garden Shop Parent Note
• How to Set up the Center Garden Shop or Flower Shop with Prop List
• Up Close Photographs of the Garden Shop in Action (real classroom photographs)
• Labels (with and without words)
• Student Idea Web/Anchor Chart (Gardeners: Can, Need, Grow)
• Role Necklaces & Role Posters (gardener, cashier, customer)
• Bunting Sign (Flower Shop, Garden Shop, and blank pennants)
• Signs - with and without words (ex: open, closed,
• Flower by the Stem (teacher tricks, signs & labels with real flower photographs) with color words flower labels and flower name labels
• Planting Station (how to create, signs, & labels)
• Seeds & Bulbs stand (how to create, signs, & labels)
• Today's Specials Sign
• Cards (printable card, family word cards, event word cards in uppercase and in lowercase)
• Design Center (stem challenges): design a vase, bouquet, yard, garden
• Plant Reports (2 options)
• Flower Orders (8 options)
• Price Tags (with & without numbers)
• Number Line (for checkout)
Take the spring theme all over your classroom with Spring Math and Literacy Centers.
Check out more DRAMATIC PLAY sets!
• Birthday Party Dramatic Play
• Construction Site Dramatic Play
• Flower Shop and Garden Shop Dramatic Play
• Ice Skating Rink Dramatic Play
• Pet Vet Animal Hospital Dramatic Play
• Pizza Resturant Dramatic Play
Click the ★green star★ at the top of my store to follow me to receive 50% off all new products for the first 24 hours a new product is posted! Visit my store Pocket of Preschool
Let's Connect!
→ Facebook
Sign up for my newsletter and you will receive a HUGE family theme writing center filled with word cards, writing paper, write the room, a teacher page with tons of ideas on how to use it the classroom, and real photos of it in action in a classroom for FREE!
Terms of Use
Pocket of Preschool™️. By purchasing and/or downloading this electronic file, you agree to the following terms. For personal use/single classroom use only. No part of this document may be distributed, posted on the internet, copied, edited, or resold. ALL contents of this document are under copyright protection including all content, text, fonts, and graphics, Thank you for respecting my hard word as well as the hard work of the artists whose work helped create this product.
To purchase additional licenses select to purchased additional licenses at checkout or go to "my purchases", select the item, and click "buy additional licenses". Did you know there are TPT School Accounts? Tell your administrator and ask if your school will purchase this for your classroom.
Report this resource to TPT