Fluency Passages & Comprehension | Integrated With Science & Social Studies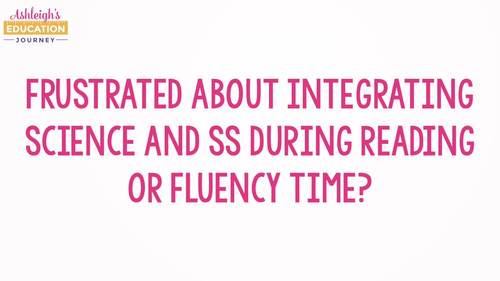 ;
Zip

Google Apps™
Includes Google Apps™
The Teacher-Author indicated this resource includes assets from Google Workspace (e.g. docs, slides, etc.).
What educators are saying
My students use this to practice fluency at home throughout the week. We track their fluency in class and have seen great progress!
The content in these passages is fantastic. It is age appropriate and engaging. I highly recommend this resource.
Description
Includes 70 full-page fluency passages and comprehension pages! Each passage is written at a third and fourth grade reading level.
Fluency passages are an amazing way to increase your students' reading fluency. These reading passages improve students' fluency AND integrate science and social studies topics. There is also a comprehension component for each passage. In the comprehension portion, there are four short answer texts. There is also extended response question where students cite text evidence.
*************************************************************************
This is available as a PDF AND a digital version (Google Slides). This means your students can use this file in Google Classroom!
Science Topics:
•Soil
• Butterfly Life Cycle
• Animal Adaptations
• Weather and Climate
• Heat
• Habitats
• Variation of Traits
• Water Cycle
• Forces and Motion
• States of Matter
• Seasons
• Magnets
• Minerals
• Rocks
• Pollution
• Insulators and Conductors
• Weathering and Erosion
• Fossils
• Environment
• Plant Adaptations
• Plant Life Cycle
• Solar System
• Moon
• Sound
• Food Chain
• Clouds
• Ecosystems
• Simple Machines
• Stars
• Weather Instruments
• Light
Social Studies Topics:
Legislative Branch
Goods and Services
Thurgood Marshall
Frederick Douglass
Ancient Greece
Franklin D. Roosevelt
Mary McLeod Bethune
Levels of Government
Paul Revere
Mountains
Landforms
Eleanor Roosevelt
Cesar Chavez
Productive Resources
Susan B. Anthony
Olympics
Longitude and Latitude
Executive Branch
Judicial Branch
Imports and Exports
Lyndon B. Johnson
Arctic American Indians
Northwest American Indians
Southwest American Indians
Plains American Indians
Northeast American Indians
Southeast American Indians
John Cabot
Vasco Núñez de Balboa
Hernando de Soto
Christopher Columbus
Henry Hudson
Jacques Cartier
New England Colonies
Mid-Atlantic Colonies
Southern Colonies
Check out these additional reading products!
Report this resource to TPT
Standards
to see state-specific standards (only available in the US).
Read with sufficient accuracy and fluency to support comprehension.
Read grade-level text with purpose and understanding.
Read grade-level prose and poetry orally with accuracy, appropriate rate, and expression on successive readings.
Use context to confirm or self-correct word recognition and understanding, rereading as necessary.
Read with sufficient accuracy and fluency to support comprehension.