Focus Wall (Pre-K, K, and 1st)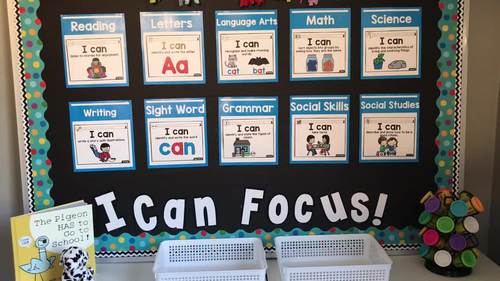 ;
What educators are saying
I use this daily. Standards are scaffolded into I cans with great clipart/ pictures. I love this resource!
LOVE having our goals of what we are working on as a visual for students to see. When someone comes in my room they know what we are learning just by looking at our board.
Also included in
* * * Questions? Click HERE to Instant Message me! * * *Wow! It's *FINALLY* here! Below I will detail out all of the information about by NEW VIP Bundle! EVERYTHING in this bundle is new, new, NEW! Are you ready to take the leap and become a VIP Bundle owner?! 1. Alphabet Centers Through the Year

Price $180.00

Original Price $336.00

Save $156.00
Description
What is the Focus Wall "I Can" Statements packet?

* * This packet is part of the VIP Bundle! * *

The Focus Wall "I Can" Statements packet will give you the resources you need for a comprehensive focus wall in your primary classroom. The packet includes 575 "I can" cards for the following subjects: phonics, grammar, math, language arts, reading, social skills, science, social studies, writing, and sight words. Each card comes with a teacher objective and student "I can" statement. The cards have picture clues for students. The focus wall headers and "I can" statements are offered in a text-only editable version as well. You can edit the colors of the header cards, edit the text-based cards, and create ENDLESS text-based "I can" cards.

This packet covers kindergarten and first grade standards. It can also be used in a pre-K, TK, Y5, SPED, or ELL classroom as well!

* * VIEW A DETAILED PREVIEW VIDEO OF THE FOCUS WALL HERE * *

What is included in the Focus Wall "I Can" Statements packet?

Phonics **208 included cards**
Grammar **22 included cards**
Math **67 included cards**
Language Arts **12 included cards**
Reading **26 included cards**
Social Skills **75 included cards**
Science **63 included cards**
Social Studies **45 included cards**
Writing **24 included cards**
Sight Words **40 included cards**

What skills are included?

Phonics: letters, word families, short vowels, long vowels, short vs. long vowels, digraphs, blends, r-controlled, double endings, vowel pairs, diphthongs, long vowel patterns, soft g, soft, c, and MORE!!! **Use the included editable cards to create ENDLESS phonics cards**

Grammar: Nouns, verbs, adjectives, subject, verbs in a sentence, incomplete vs. complete sentences, capitalizing nouns, pronouns, singular vs. plural, prepositions, punctuation, and MORE!!! **Use the included editable cards to create ENDLESS grammar cards**

Math: addition, word problems, making 10, combos of 10, fluency, counting, skip counting, counting on, writing numbers, how many, 1:1 counting, counting sets, comparing sets, comparing numbers, place value, tens and ones, equations, measurement tools, comparing measurements, sorting, 2D shapes, 3D shapes, shapes in real life, 2D vs, 3D shapes, attributes of shapes, building 3D shapes, drawing 2D shapes, solving word problems with 3 numbers, add/sub fluently within 20, 10's in a number, comparing with symbols, adding within 100, 10 more and 10 less, time to one hour and half hour, coin values, fractions, and MORE!!! **Use the included editable cards to create ENDLESS math cards**

Language Arts: reading left to right, letters make words, finger spacing, identifying letters, rhyming, syllables, BME, manipulating sounds, taking apart words, sounds, long vs. short vowels, sight words, and MORE!!! **Use the included editable cards to create ENDLESS language arts cards**

Reading: listening to stories for enjoyment, reading books on their level, asking and answering questions, retelling a story, characters in a story, setting in a story, problem of a story, solution of a story, vocabulary words, fiction stories, author vs. illustrator, using pictures to tell a story, comparing characters, connections in a story, visualizations in stories, fiction stories, nonfiction stories, main topic, front cover vs. back cover, understanding nonfiction stories, comparing nonfiction texts, and MORE!!! **Use the included editable cards to create ENDLESS reading cards**

Social Skills: Taking Turns, Following directions, Following rules, Sharing, Being a good friend, Impulse control, Voice volume, Tattling, Being first and last, Interrupting, Personal space, Asking for help, Apologizing, Helping, Praising others, Good sportsmanship, Patience, Compromising, Respecting others, Eye contact, Identifying feelings, Expressing feelings, Encouragement, Complimenting, Communicating clearly, Expected behavior, Think before you speak, Peer pressure, Problem solving, Manners, Being flexible, Accepting "no", Accepting criticism, Celebrating success, Asking permission, Participation, Staying on task, Using names, Conflict resolution, Cooperation, Forgiving, Reliability, Trust, Initiating a conversation, Holding a conversation, Ending a conversation, Responsibility, Respecting yourself, Respect property, Respect others, Respect authority, Facial expressions, Body language, Honesty, Perseverance, Making mistakes, Best effort, Avoiding conflicts, Accepting differences, Confidence, Actions impacting others, Self-esteem, Being bossy, Being positive, Calming down, Making decisions, Knowing strengths, Knowing weaknesses, Multiple friends, Gratitude, Sore loser, Control, Guilt, Giving Criticism, and Separation. **Use the included editable cards to create ENDLESS social skills cards**

Science: living vs. nonliving, plant life cycle, plant needs, plants vs. animals, animal needs, animal habitats, blubber, animals growing and changing, natural resources, water cycle, natural and man-made, types of land use, water cycle, caring for Earth, seasons, weather, types of storms, stages of matter, the sun, protection from sun, shadows, space, the moon, daytime vs nighttime, simple machines, force and motion, five senses, magnets, levels, pulleys, and MORE!!! **Use the included editable cards to create ENDLESS science cards**

Social Studies: rules, being a good citizen, american symbols, communities, community helpers, maps, map symbols, cultures, holidays, wants vs. needs, goods vs. services, then and now, veterans, constitution, resolution, holidays, leaders, families, and MORE!!! **Use the included editable cards to create ENDLESS social studies cards**

Writing: Illustrated stories, labeled stories, opinion stories, adding details in stories, writing simple stories, writing stamina, how-to stories, persuasive stories, fiction stories, informational stories, capital letters, punctuation, finger spacing, publishing writing, and MORE!!! **Use the included editable cards to create ENDLESS writing cards**

Sight Words: the, play, more, see, like, am, can, we, come, to, with, my, you, what, are, how, is, now, find, this, will, make, for, I, said, good, she, have, all, help, look, out, take, off, here, some, mom, dad, love, no. **Use the included editable cards to create ENDLESS sight word cards**

What color schemes are included?

Blue,
Green
Purple
Red
Pink
Yellow
Orange
Black
Teal
Gray
**Use the included EDITABLE version to make endless color schemes of YOUR choice**


Questions? Please email me at littlemindsatworkLLC@gmail.com

Would you like to receive notifications for my newly released packets and upcoming sale? Be sure to FOLLOW ME here on TPT!
**Join my private Facebook Group to join fellow Pre-K, Kindergarten, First Grade and Second Grade teachers that use my curriculum! Collaborate, chat and share ideas with like-minded teachers! Join the private Facebook group H E R E!
Visit my blog Little Minds at Work
Follow me on Facebook
Report this resource to TPT