Folktale Passages with Tall Tales, Figurative Language Lessons and Dioramas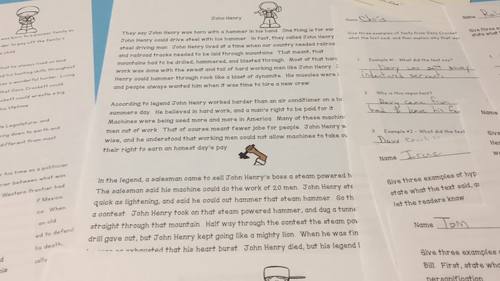 ;
Easel Activities Included
Some resources in this bundle include ready-to-use interactive activities that students can complete on any device. 
Easel by TPT is free to use!
Learn more
.
Products in this Bundle (5)
Description
Students read five folktales about famous tall tale legends. Each passage features a different figurative language lesson. As a culminating activity, kids create engaging pop-up book dioramas. Read about Paul Bunyan, Johnny Appleseed, John Henry, and Pecos Bill while studying hyperbole, idioms, metaphors, similes, and personification. I have also added a lesson about Davy Crockett, which introduces the genre of folklore to your students.
Each of these heroes has their own lesson, complete with a close reading passage about that folk tale hero. Each section also has an explanation of the figurative language being taught, along with practice identifying it. The Davy Crockett lesson has a section introducing folk tales, and gives students practice activities identifying them. Finally, each lesson has materials for students to create their own pop up book on that tall tale hero.
All of the materials you need to study each of these classic tall tales is included. Then once you're done learning these folk tales, there are graphics and instructions to create beautiful Pop-up book dioramas of each character.
A great unit to immerse your class into the world of tall tales and folk tales!
Happy customers have said:
"A great hands on approach to teaching figurative language."
"This was exactly what my 2nd - 7th ESE students needed! Folk heroes and figurative language were like a foreign language to the majority of my students! Wonderful product!"
"Thank you for your hard work! Great resource."
*****************************************************************************
You may also enjoy:
Teaching Onomatopoeia Through Song.
Johnny Appleseed and Adjectives: Lesson and Pop Up Book.
Native American Bundle: Lessons, Activities, and Pop Up Books.
*****************************************************************************
Customer Tips:
How to get TPT credit to use on future purchases:
• Please go to your My Purchases page (you may need to login). Beside each purchase you'll see a Provide Feedback button. Simply click it and you will be taken to a page where you can give a quick rating and leave a short comment for the product. Each time you give feedback, TPT gives you feedback credits that you use to lower the cost of your future purchases. I value your feedback greatly as it helps me determine which products are most valuable for your classroom so I can create more for you. ☺
Be the first to know about my new discounts, freebies and product launches:
• Look for the green star next to my store logo and click it to become a follower. Voila! You will now receive email updates about this store. ☺
*****************************************************************************
Teaching Duration
1 month
Report this resource to TPT
Standards
to see state-specific standards (only available in the US).
Recount stories, including fables and folktales from diverse cultures, and determine their central message, lesson, or moral.
Recount stories, including fables, folktales, and myths from diverse cultures; determine the central message, lesson, or moral and explain how it is conveyed through key details in the text.
Use knowledge of language and its conventions when writing, speaking, reading, or listening.
Choose words and phrases for effect.
Demonstrate understanding of word relationships and nuances in word meanings.