Food Chains Inference Lab with Skulls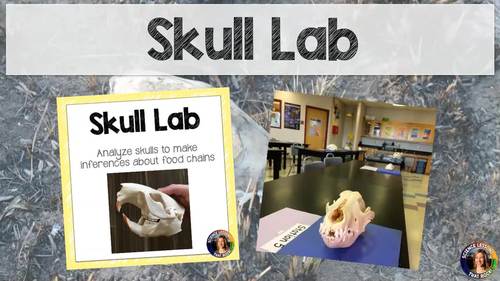 ;
Zip

Google Apps™
Includes Google Apps™
The Teacher-Author indicated this resource includes assets from Google Workspace (e.g. docs, slides, etc.).
What educators are saying
SO much fun! My students absolutely loved it and so did I. My students were connecting to prior knowledge and I feel like this is the perfect inquiry starter for ecology.
These were great to accompany the notebooks I sent home to my students for distance learning, so we had a fun way to demonstrate their learning.
Also included in
Everything you need to teach students about ecological trophic levels! This bundle includes lessons, labs, and engaging activities for the following topics: Producers, consumers, decomposers, herbivores, carnivores, omnivores, food chains, food webs, trophic pyramids. The lessons are listed in the r

Price $23.20

Original Price $29.00

Save $5.80

This bundle includes everything you need to teach ecology! Powerpoints, worksheets, interactive labs and games, writing prompts, exit tickets, and more. Check out the previews of each product above!Be sure to follow my TpT store by clicking on the green "follow me" next to my seller picture to recei

Price $130.40

Original Price $163.00

Save $32.60
Description
This is a fun and innovative way to teach students about ecology. In this inquiry lab, students will analyze animal skulls and draw conclusions about them based on observations. This is an excellent lab to do prior to teaching words such as herbivore or carnivore- let students discover those concepts on their own!
There are 2 ways to use this lab:
1- If you have animal skulls available in your classroom, place one at each station around the room and use the lab worksheet included. (If you don't have any, check with your local game and fish department, they often have skulls they will loan out).
2- If you do not have access to animal skulls I've included pictures of 8 different animal skulls students can examine. You can print color copies or assign via Google slides (link is included).
This lab is a blast! You will never start your ecology unit with vocabulary words again! I've used this lab as low as 6th grade and as high as 10th and they love it regardless.
Teaching an ecology unit? Check out some other fun activities in my store!
Create your own Food Chain and Web
Be sure to follow my TpT store by clicking on the green "follow me" next to my seller picture to receive notifications of new products and upcoming sales. 
Don't forget to leave feedback to earn TpT credits that can be used for future purchases!
Want free tips and resources sent to your inbox once a week? Subscribe to my newsletter! You can also...
♻️ Check out my blog
♻️ Follow me on facebook
♻️ Follow me on instagram
♻️ Follow me on pinterest
Report this resource to TPT
Standards
to see state-specific standards (only available in the US).
Construct an explanation that predicts patterns of interactions among organisms across multiple ecosystems. Emphasis is on predicting consistent patterns of interactions in different ecosystems in terms of the relationships among and between organisms and abiotic components of ecosystems. Examples of types of interactions could include competitive, predatory, and mutually beneficial.