Food & Drink | Extreme Eating - Reading Comprehension Worksheet & Lesson Plan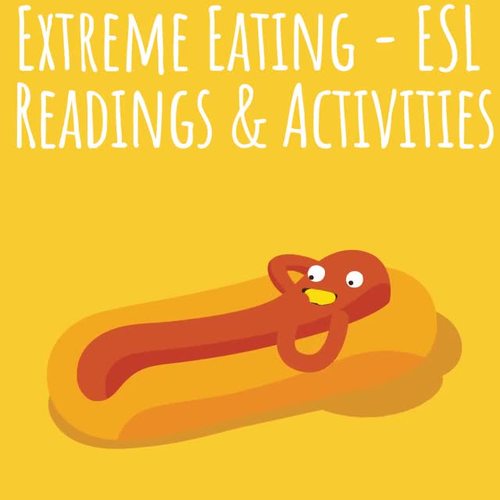 ;
7

th

- 12

th
,
Higher Education
,
Adult Education
Description
No-prep food and drink reading comprehension worksheet about the weird & wonderful world of competitive eating. This would be perfect for English Reading or ESL classes and the pdf worksheet guides you through the very low-prep lesson plan - so just print & go!
Extreme tends to be a topic that students really enjoy and I've found that this lesson promotes great debate and can easily lead into other topics, such as diet, health, inequality, greed, etc. A great springboard to get enthusiastic conversations in your classroom!
Lesson includes:
✅ Pre-task Discussion
✅ Skimming and Scanning Reading Activities
✅ Full Lesson Plan
✅ Vocabulary Review
✅ Comprehension Check
✅ Discussion.
Can alternatively be purchased as part of the Food and Drink Package.
***********************************************************************************************
These materials are part of a series. You can check out the rest of the materials here:
1. Festivals - Guy Fawkes Night, Burning Man & Pamplona Running of the Bulls
2. Famous People & Celebrities - David Bowie, Lucy Liu & Steve Irwin
3. Food Culture Around The World - Healthy Eating, Extreme Eating & Coffee Culture
4. Music and Culture - Grafitti, Opera & Punk
5. Cities and their People - Jerusalem, Christchurch & Athens
6. Art and Literature - Graphic Novels, The Guggenheim & Franz Kafka
7. Global Sports - Cricket, Rugby &Base Jumping
8. Scientists & Inventors - Elon Musk, Boyan Slat & Mae Jemison
I also sell:
Posters - Growth Mindset, Motivational, Funny Grammar, The Power of Music & more...!
Short Story Analysis and Activities- The Rocking Horse Winner by D.H. Lawrence
ESL & English Games - Fruit & Veg Themed Games and Activities and Meat & Seafood Themed Games
Or, for plenty more high-quality ESL products, visit my store Here
*************************************************************************************
Note to buyers:
I am a small seller who is trying to take this from a small side hustle into something a little bigger. I'd REALLY appreciate it you could spend a minute or two to just leave me a quick review and follow me by clicking HERE.
Happy Teaching!
Dylan (The Laughing Linguist)
Report this resource to TPT