Football Bulletin Board Back to School Beginning of the Year Goal Writing K 1 2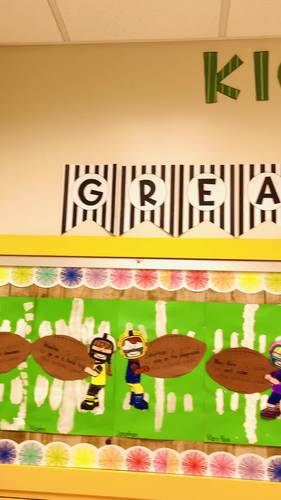 ;
Also included in
This Bulletin Board MEGA Bundle is a MUST HAVE for teachers in kindergarten, first, second, or third! This MEGA Bundle includes 10 complete packages to create AMAZING writing and craft displays every month of the school year! Each set includes differentiated writing options as well as a craft.Bull

Price $30.00

Original Price $42.50

Save $12.50

The ULTIMATE Bulletin Board MEGA Bundle includes 20 sets of craft and differentiated writing activities to use throughout the ENTIRE YEAR in kindergarten! This bundle features all differentiated writing and craft sets from both the ORIGINAL Bulletin Board MEGA Bundle and the Bulletin Board MEGA Bun

Price $52.00

Original Price $75.00

Save $23.00

I have poured my heart and soul into creating this Bulletin Board MEGA Bundle that includes 30 sets of purposeful displays featuring standards-aligned writing or math activities with a cute craft to match!Click the PREVIEW and the VIDEO PREVIEW to see all that you get in this AMAZING value...This bu

Price $79.20

Original Price $119.00

Save $39.80

What is Family Homework? Each month, I send home a family homework assignment for my students to complete with their grownups. It's a win-win for everyone. My students have fun working on the activities with their families, and I've got an instant bulletin board when they return their finished wo

Price $20.00

Original Price $33.50

Save $13.50

Introducing the bundle of all bundles! This Bulletin Boards Mega Bundle includes 40 seasonal sets of purposeful activities that make the most amazing displays on boards, in your hallway, or on your classroom door. These resources were designed for kindergarten. Differentiated options may also be

Price $116.00

Original Price $165.50

Save $49.50
Description
Looking for a back to school / beginning of the year bulletin board and writing for kindergarten, first, or second grade?
Kick off a great year with your students as they create game plans and set goals for the school year!
This Back to School Football Themed resource includes:
12 differentiated custom football writing templates that feature both primary lined and regular lined options
Boy and Girl Football Player Templates
A parent letter if you wish to assign the coloring of the football players as homework like I do. (It's a lot of coloring for my kids at the beginning of the year. So I send the football players home as "family homework," where grownups can help. Then, I do the football writing portions with them in small groups and attach it.)
Bulletin Board Lettering (See the updated preview video and file for the new referee-like lettering)
You may also take your kids' pictures posing as football players and attach the finished football writing. See the original photo for an example.
This makes for a great Back to School or Beginning of the Year Bulletin Board!
~Steeler Logo is not included as seen in preview picture!
PRODUCT UPDATE...The added BONUS file has been updated to now include some pretty amazing upgrades including a boy and girl football craft to accompany the football writing. Bonus updates also include new styles of lettering! If you have already purchased, simply download the product again to receive these updates! Click the PREVIEW button to see how this new and improved version turned out in my kindergarten! I received so many compliments on this board, and you will too!
Cover Clip Art by Joy of Kindergarten. Bonus file clip art by Whimsy Clips. AG fonts by Amy Groesbeck!
BEFORE YOU BUY, check out my BULLETIN BOARD MEGA BUNDLE for the ENTIRE YEAR that includes this resource and a total of 30 seasonal sets. Each resource integrates differentiated writing or math activities with a custom craft to match! BONUS display lettering is included as well. If you love a good bulletin board as much as I do, this bundle is for you! Why search for monthly activities when you can have it all in one place?! !
I hope you have your best school year yet! Enjoy!
TERMS OF USE:
Thank you so much for your support and interest in Kindergarten Korner, LLC. Creating quality resources for teachers is truly my passion and seeing my resources in action all over the world is the best feeling! Please take a moment to read my Terms of Use.
This download is intended for use by the purchaser only, unless additional licenses are purchased (one license per teacher). It may be printed by the teacher for use in class or sent home as a paper packet for homework or distance learning. Parents or homeschooling families may purchase for teaching children at home.
No commercial use or sharing of this product is permitted including email, public Internet Groups or Blogs, School District Websites, School Websites, Personal Websites, Shared Google Drives, YouTube, See Saw, or Offline Groups.
This item is bound by the Digital Millennium Copyright Act and redistributing, editing, selling, and/or posting this item on the Internet are strictly prohibited and illegal.
I truly appreciate you respecting my work, and I kindly ask that you share the link to my product with your teammates and not the file. Please understand that I love providing quality resources to teachers and families, yet this is how I provide for my family. Illegal file sharing hurts all sellers who create in this amazing TPT Community. Keep in mind when someone may ask you to "share" a file, it is only "sharing" if you are the creator.
Please see product download for the full Terms of Use and clip art credits.
Thank you for looking!
Casey and the Kindergarten Korner Team
Report this resource to TPT