Forces of Nature - Day 2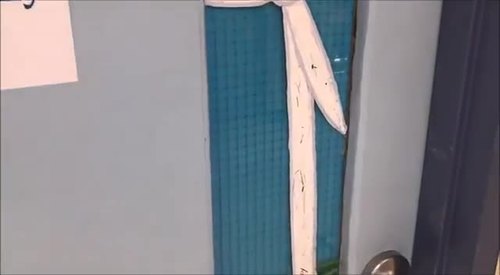 ;
Also included in
This is a bundle of all of the lessons, labs, PowerPoints, and worksheets for Unit 6: Earth's Systems. The bundle also includes the Unit 6 Test and its answer key. For a walkthrough of the unit, including pictures and videos, please click here.

Price $14.99

Original Price $19.00

Save $4.01

This bundle includes an entire year's worth of material. It includes lessons, labs, projects, tests and more. The seven units include are as follows:Unit 1 - Forces and MotionUnit 2 - ChemistryUnit 3 - GeneticsUnit 4 - EvolutionUnit 5- AstronomyUnit 6 - Earth's SystemsUnit 7 - Environmental ScienceT

Price $100.00

Original Price $139.00

Save $39.00
Description
Today was the second day of the Forces of Nature project, and our first real disaster. Students walked into the classroom to find their desks set up like a real FEMA office. And at each desk was an email. "Dear FEMA employees, my name is Patrick Connors, head of the California State Fire Department. We've had an outbreak of severe fires recently outside of Los Angeles, in Bishop CA, and outside of Sacramento. Local fire crews and town fire departments are overrun. We need your immediate assistance…"
Their task today was to help plan the defense of California against three separate wildfires. Students had to consider the population distribution in California, the state's climate, today's weather and wind direction, etc. By replying directly to the email, students were able to advise the state on how to deploy their firefighting forces. They had access to 12 fire trucks, 2 fire-line crews, 2 helicopters, and 1 airplane. And their task was to deploy all of these forces in the most intelligent way possible. Which fire will spread the fastest? Which fire will affect the most people? Where she we dig our fire-lines? These were not questions with easy answers.
For a copy of all of the project materials for Day 2, please click the link above. (To see the project in action, please click here.)
Teaching Duration
45 minutes
Report this resource to TPT
Standards
to see state-specific standards (only available in the US).
Analyze and interpret data on the distribution of fossils and rocks, continental shapes, and seafloor structures to provide evidence of the past plate motions. Examples of data include similarities of rock and fossil types on different continents, the shapes of the continents (including continental shelves), and the locations of ocean structures (such as ridges, fracture zones, and trenches). Paleomagnetic anomalies in oceanic and continental crust are not assessed.
Construct an explanation based on evidence for how geoscience processes have changed Earth's surface at varying time and spatial scales. Emphasis is on how processes change Earth's surface at time and spatial scales that can be large (such as slow plate motions or the uplift of large mountain ranges) or small (such as rapid landslides or microscopic geochemical reactions), and how many geoscience processes (such as earthquakes, volcanoes, and meteor impacts) usually behave gradually but are punctuated by catastrophic events. Examples of geoscience processes include surface weathering and deposition by the movements of water, ice, and wind. Emphasis is on geoscience processes that shape local geographic features, where appropriate.
Develop a model to describe the cycling of Earth's materials and the flow of energy that drives this process. Emphasis is on the processes of melting, crystallization, weathering, deformation, and sedimentation, which act together to form minerals and rocks through the cycling of Earth's materials. Assessment does not include the identification and naming of minerals.
Develop a model to describe the cycling of water through Earth's systems driven by energy from the sun and the force of gravity. Emphasis is on the ways water changes its state as it moves through the multiple pathways of the hydrologic cycle. Examples of models can be conceptual or physical. A quantitative understanding of the latent heats of vaporization and fusion is not assessed.
Develop and use a model to describe how unequal heating and rotation of the Earth cause patterns of atmospheric and oceanic circulation that determine regional climates. Emphasis is on how patterns vary by latitude, altitude, and geographic land distribution. Emphasis of atmospheric circulation is on the sunlight-driven latitudinal banding, the Coriolis effect, and resulting prevailing winds; emphasis of ocean circulation is on the transfer of heat by the global ocean convection cycle, which is constrained by the Coriolis effect and the outlines of continents. Examples of models can be diagrams, maps and globes, or digital representations. Assessment does not include the dynamics of the Coriolis effect.