Forgiveness Lesson: Social Skills Task Cards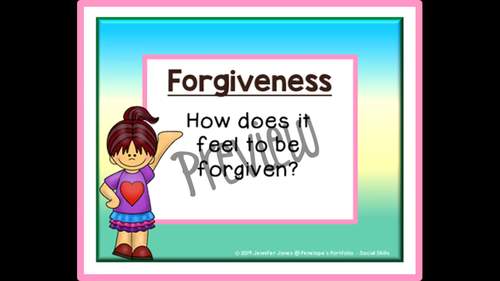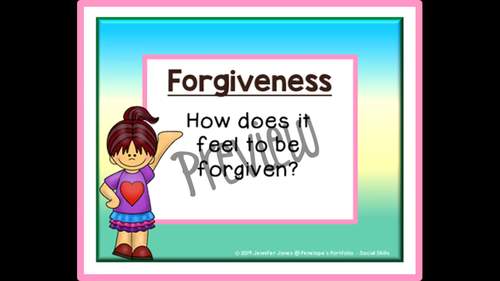 Created By
Penelope's Portfolio
Format
PDF
 (
5 MB
|
30 (40 task cards)
)
Also included in
This bundle includes all of the forgiveness character education / social skills activities within my store! INCLUDED RESOURCESForgiveness Activities and LessonsForgiveness Task CardsTOU and CreditsWANT TO JOIN MY NEWSLETTER?Click here to subscribe!GET TPT CREDITGo to your "My Purchases" page, and c

Teaching kids social skills is essential, and these task cards help students question their own values and good behavior. This is a bundle made up of all the character education question task cards available in my store at a discounted price. They are easy to use, and come in color and black and w
Product Description
These Forgiveness Question Task Cards make important additions to any character education / social skills program when teaching forgiveness. They are easy to use, print & go, and come in color and black/white! They also work well with my Forgiveness Packet, which may be purchased separately. Watch video preview above.
Click HERE to save $$$ by buying all FORGIVENESS resources in one BUNDLE!
Click HERE to save $$$ by buying all CHARACTER EDUCATION TASK CARDS in one BUNDLE!
SUGGESTED USES FOR EDUCATORS, SPECIALISTS, AND PARENTS
Students may read and discuss questions in pairs, groups, or centers. If working independently with a child, the adult may read and discuss the cards with the child.
Students may role play the expected scenarios/answers to each other. This may be done in pairs or groups, or with an adult. Discuss facial expressions, body language, manners, and actions shown by the participants. Discuss the impact this type of communication / behavior has on this virtue. Educators may pick a few pairs or groups to role play in front of the entire class. If working independently with a child, the adult may role play with the child.
Educators may choose a few per day to begin a classroom discussion during a morning meeting or anytime.
Use as writing prompts for individual work.
Use as extra reinforcement for early finishers.
Use with small groups. Each group receives one task card and one poster board. Students work together to draw pictures answering the question. Each group presents the poster to the class and discusses their answers. (Choose appropriate questions).
*Laminate and use again and again. Store in an envelope, bag, folder, or hole punch corners and attach to a ring.
INCLUDED VERSIONS
Color PDF version
Black and white PDF version
INCLUDED RESOURCES
Suggested Uses
Teaching Guide
Forgiveness Task Cards Questions (click preview above to see a list of all questions)
40 Task Cards (4 per page)
4 Blank Cards
TOU and Credits
EMAIL
I may be contacted at penelopesportfolio@outlook.com
GET TPT CREDIT
Go to your "My Purchases" page, and click the Provide Feedback button. Each time you provide feedback, TPT gives you credits that may be used towards the cost of your future purchases. Your feedback is greatly valued and helps me determine future products. Thank you!
WANT TO JOIN MY NEWSLETTER?
I have suggested a grade level of K - 6, to include children on the spectrum, children in mainstream classes, and younger children who demonstrate an ability to complete this resource. Please preview the resource above to determine if it's appropriate for your needs, and email me with any questions if desired.
SIMILAR PRODUCTS
Report this Resource to TpT