Forms of Energy Speed Dating Activity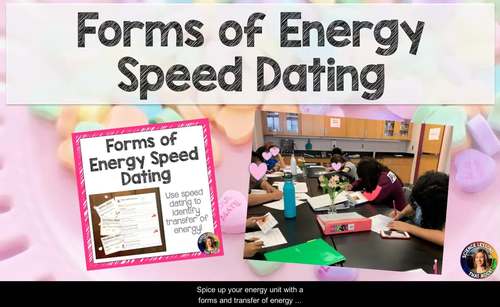 ;
Also included in
Included in this purchase are great products for your energy unit! Products cover the following topics: Forms of energy, energy transfer, heat transfer, and conductors and insulators. Click on the previews to check out each product individually. Be sure to follow my TpT store by clicking on the gree

Price $32.00

Original Price $40.50

Save $8.50
Description
Spice up your forms of energy lesson with this speed dating activity! Perfect around Valentine's day to review forms, transfer, and conservation of energy.
In this activity, students are assigned an energy card. On each card students are given information on how the form of energy works and examples of objects that use that type of energy. Students will then go on 5 "speed dates" with other students in the classroom. After discussing their form of energy and how it works they need to come up with examples of how energy is transferred between the two types.
You might also be interested in:
Energy snakes and ladders review game
Be sure to follow my TpT store by clicking on the green "follow me" next to my seller picture to receive notifications of new products and upcoming sales. 
Don't forget to leave feedback to earn TpT credits that can be used for future purchases! 
Want free tips and resources sent to your inbox once a week? Subscribe to my newsletter! You can also...
♻️ Check out my blog
♻️ Follow me on facebook
♻️ Follow me on instagram
♻️ Follow me on pinterest
Report this resource to TPT