Fraction Operations Activities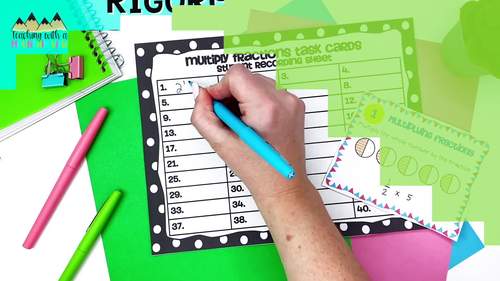 ;
Zip

Google Apps™
Includes Google Apps™
This bundle contains one or more resources with Google apps (e.g. docs, slides, etc.).
What educators are saying
I loved having the same fractional parts in the same question so you could see that 2/4 and 1/2 were the same!
Love all of this! Each and every resource in here is great and engaging and can be used for lessons or assessments.
Products in this Bundle (7)
showing 1-5 of 7 products
Also included in
An absolute must-have, MASSIVE bundle of all of my concept resources bundles. The bundles included in this ULTIMATE bundle are perfect for ANY teacher in grades 4+. Math projects, error analysis tasks, task cards, and other engaging activities are included in each concept bundle! This bundle inclu

Price $89.99

Original Price $124.03

Save $34.04
Description
This is the ONLY set of Fraction Operations resources you will need when planning rigorous student activities while students are learning operations with fractions! This digital and printable Fraction Operations Bundle includes resources for adding fractions, subtracting fractions, multiplying fractions, and dividing fractions.
95+ pages of fraction operations practice! You provide the instruction, and this bundle provides all the practice, enrichment, and review they could possibly need! This bundle provides perfect differentiation opportunities for students in grades 4-6!
Included in this fraction bundle are the following Top-Selling and Highly-Rated products from my store:
The following resources include BOTH a digital and printable version:
The following resource includes only a printable version:
You save OVER 30% buying bundled!
Answer Keys & Recording Sheets Included for All Resources
Do you need MORE MATH BUNDLES?
Multi-Digit Multiplication Resource Bundle
Multiplication Task Card Bundle
Report this resource to TPT
Standards
to see state-specific standards (only available in the US).
Understand addition and subtraction of fractions as joining and separating parts referring to the same whole.
Add and subtract mixed numbers with like denominators, e.g., by replacing each mixed number with an equivalent fraction, and/or by using properties of operations and the relationship between addition and subtraction.
Solve word problems involving addition and subtraction of fractions referring to the same whole and having like denominators, e.g., by using visual fraction models and equations to represent the problem.
Apply and extend previous understandings of multiplication to multiply a fraction by a whole number.
Understand a fraction 𝘢/𝘣 as a multiple of 1/𝘣. For example, use a visual fraction model to represent 5/4 as the product 5 × (1/4), recording the conclusion by the equation 5/4 = 5 × (1/4).