Fraction Operations Poster - Math Classroom Decor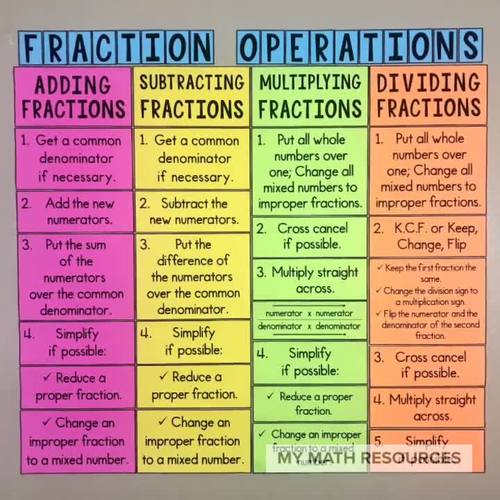 ;
Also included in
Help your 5th, 6th, 7th, or 8th grade math class practice and review fraction operations with this poster and foldable bundle! The bulletin board posters will look GREAT on your word wall with your anchor charts!The foldable is a great change of pace from traditional note-taking! Multiple printing

Price $5.59

Original Price $9.49

Save $3.90

Decorate your entire math classroom with my complete bundle of bulletin board posters. They're better than any math posters you have ever seen! Most math classroom posters are hard to read from the desks. Your students can't even read them unless they're out of their seats and standing next to th

Price $86.38

Original Price $215.93

Save $129.55

Decorate your entire fifth grade math classroom with this bundle of DIY classroom posters!They're better than any math posters you have ever seen!I have discounted this bundle by 50% to give you the MAXIMUM discount. I'm not allowed to make it any cheaper!Most math classroom posters are hard to rea

Price $46.58

Original Price $116.44

Save $69.86

Decorate your entire sixth grade math classroom with this bundle of DIY classroom posters! They're better than any math posters you have ever seen! I have discounted this bundle by 50% to give you the MAXIMUM discount. I'm not allowed to make it any cheaper!Most math classroom posters are hard to

Price $49.03

Original Price $122.58

Save $73.55
Description
Use these Fraction Operations posters to create a large and vivid word wall display or anchor chart for your upper elementary or middle school math class.
Your 5th, 6th, or 7th grade math students will really benefit from having a constant reminder on the wall.
This poster is LARGE!
As pictured, it measures 42.5in x 40in!
This is a black & white DIY poster.
Print out the panels you want to use, cut them out, and assemble your poster. For best results, print on color paper or card stock and laminate.
If you want your poster to look exactly like mine, you need to print it on Astrobrights color paper.
Most math classroom posters are hard to read from the desks. They are often cluttered with too much information! The students can't even read them unless they are standing next to the wall!
My posters are LARGE and VIVID! They're EASILY read from the desks!
These posters are useful and beautiful! Decorate and educate!
Download these posters today!
You might also like some of my other math classroom decor:
Answer Key
Does not apply
Teaching Duration
Lifelong tool
Report this resource to TPT