Fractions Project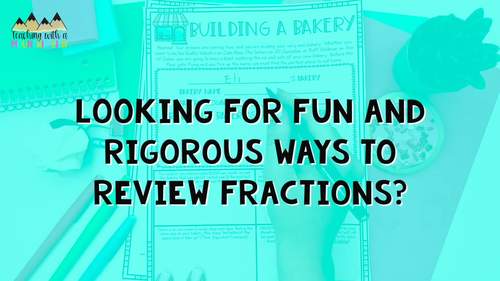 ;
Zip

Google Apps™
Includes Google Apps™
The Teacher-Author indicated this resource includes assets from Google Workspace (e.g. docs, slides, etc.).
What educators are saying
This is a great resource, and I love that it gives me more opportunities to show students how math is used in the real world. Thank you!
Excellent resource that was challenging in places. Students loved it. A great recap of the knowledge the children were taught.
Also included in
This is the ONLY set of Fraction Operations resources you will need when planning rigorous student activities while students are learning operations with fractions! This digital and printable Fraction Operations Bundle includes resources for adding fractions, subtracting fractions, multiplying frac

Price $16.99

Original Price $24.24

Save $7.25

These real-world math projects have changed my math instruction and increased my students' critical thinking skills! This bundle of math projects includes thirteen discounted concept-based, differentiated, best-selling math projects. 13 *Highly Rated,* concept-based projects are included.Wondering

Price $35.99

Original Price $50.39

Save $14.40

An absolute must-have, MASSIVE bundle of all of my concept resources bundles. The bundles included in this ULTIMATE bundle are perfect for ANY teacher in grades 4+. Math projects, error analysis tasks, task cards, and other engaging activities are included in each concept bundle! This bundle inclu

Price $89.99

Original Price $124.03

Save $34.04

Take engagement and rigor to the next level with these high-interest math projects for upper elementary. I have designed my math projects to be highly engaging, student-driven, real-world, and enriching. You'll have a project for every occasion all year long! This bundle of TWENTY-NINE digital and p

Price $79.99

Original Price $118.56

Save $38.57
Description
Engage your students with a real world fraction project that is digital and printable! This project based learning activity includes 13 Pages of fraction practice aligned to common core standards. You can use this as an extended project, for individual skill practice, math center work, enrichment, assessment, or independent study. This is also perfect review as test prep!
This project includes two different DIGITAL, Google Slides versions that upload easily into Google Classroom for distance or virtual learning!
What skills are covered in Breaking Up the Bakery: A Real-World Fractions Project?
Identifying, Drawing, and Writing Fractions
Equivalent Fractions
Mixed Numbers & Improper Fractions
Reducing Fractions to Simplest Form
Adding Fractions and Mixed Numbers
Subtracting Fractions and Mixed Numbers
Multiplying Fractions and Mixed Numbers
Dividing Fractions and Mixed Numbers
Converting Fractions to Decimals (optional)
Comparing Fractions
Combining Fractions to make Equivalent Fractions
What is included in my purchase?
The ORIGINAL printable Fractions Project (and Answer Key)
The UPDATED printable Fractions Project (and Answer Key) - updated in 2019 with a modern design and small content upgrade
A NO COLOR version, completely in black and white and ready for photocopying
A METRIC version of the Fractions Project
DIGITAL Google Slides Access in TWO versions (Choose the Fractions Project that will work best for your class! A digital metric version is also included!)
, though many pages can be used with 4th grade standards. If you are looking for an engaging fraction project that is perfect for grades 3 and 4, please check out my Sleepover Fraction Project!
What are teachers saying about this fractions project?
"I love all of the TWAMV projects, and this one is one of the best. It hits all of the main fraction skills in a fun way that keeps the students engaged. This should be a 4th grade must-have resource." - Emily G.
"This is a fantastic resource that I used to review operations with fractions and mixed numbers instead of just using a worksheet or textbook with the types of questions I wanted them to work on. My students MUCH preferred using this resource to review the topic." - Danielle G.
"There is a LOT of materials in this resource and it helped us to review what students should have learned about fractions in previous grades, as well as allowed us to use it with this year's (sixth grade) fraction unit. We used it as a print resource, but it can also be used in google slides. Students enjoyed the fraction review without the 'drill' method of reviewing. A great resource!" - Brenda S.
More Fraction Resources!
HUGE Fraction Concepts Task Card Bundle
Multiplying Fractions Task Cards
Adding and Subtracting Fractions Task Cards
More Math Projects!
Movie Marathon: A Long Division Project
Resort Report: A Multi-Digit Multiplication Project
Multiplying and Dividing Decimals Project
Report this resource to TPT