Freak the Mighty Novel Study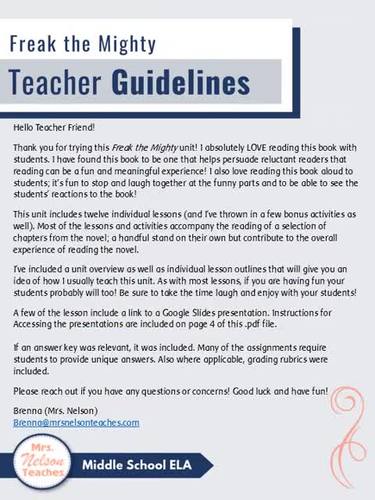 ;
Easel Activity Included
This resource includes a ready-to-use interactive activity students can complete on any device. 
Easel by TPT is free to use!
Learn more
.
What educators are saying
I used this unit step-by-step to help engage my students into the story. My students loved the different activities built throughout this unit!
This unit is amazing!!! I LOVE how much we build the students' background knowledge. My students were so engaged throughout the book!
Description
This Freak the Mighty novel study unit includes all the activities you will need for your class study! Middle School students will love this unit while enhancing their literacy and writing skills AND enjoying a few creative projects along the way!
Freak the Mighty is one of my all-time favorite books to share with students. Not only is it a great story told through the fantastic voice of the character Max, but there are numerous literary skills that can be taught while reading the novel. This unit is perfect for middle school students whether in a traditional classroom or via distance learning!
12 Lesson Plans are included with each lesson is broken down with step-by-step instructions!
This complete Freak the Mighty Novel unit plan goes beyond basic comprehension questions and helps students to understand important literary terms and practice important and writing reading skills and strategies in the context of Freak the Mighty.
This is my go-to book to convince reluctant readers that reading can be FUN!
**Updated 9/2020**
:
General Teacher Guidelines and Instructions
Unit Plan Overview
12 Lesson outlines with step-by-step teacher instructions (one for each lesson).
Links to Engaging Google Slides Presentation that will guide you and your students through applicable lessons and the activities.
Teacher Modeling and Guided Practice built into Slides Presentation.
Class Discussion Points.
Independent Practice Activities.
Creative Assignments.
Answer Keys (where applicable).
Grading Rubrics.
Instructions for accessing Google Slides Presentation
Instructions for saving Google Slides Presentation as a PowerPoint Presentation.
:
Critical Thinking
Mood/Tone
Plot Structure
Foreshadowing
Suspense
Research / Inquiry
Characterization
Paragraph Writing
Citing Evidence
Making Connections
Visualizing
Similes
Metaphors
Theme Analysis
Voice in Writing
Discussion Etiquette
Strategic Argument
Making Inferences
Style in Writing
Reading Informational Texts
Character Analysis
Collaboration
Reference Skills
Character Education
Vocabulary from the novel

You Might Also Like:
The Witch of Blackbird Pond - Complete Novel Unit
Informational Text Feature Unit
Free Stuff!
Did you know that TpT gives you credits towards future purchases when you leave feedback? Your feedback is so important to me as I try to provide the best products possible! Please go to your "My Purchases" page (you may need to log in). Next to each purchase, you'll see a "Provide Feedback" button. Simply click on the button and it will take you to a page where you can give a quick rating and leave a short comment. Thank you so much for providing valuable feedback!
Connect with Me!
Click on the "Follow Me" button on my store page to see all my latest products and updates!
Follow me on Instagram @mrs.nelson.teaches.
Follow me on Pinterest! Brenna Nelson
Answer Key
Included with rubric
Teaching Duration
3 Weeks
Report this resource to TPT
Standards
to see state-specific standards (only available in the US).
Cite textual evidence to support analysis of what the text says explicitly as well as inferences drawn from the text.
Determine a theme or central idea of a text and how it is conveyed through particular details; provide a summary of the text distinct from personal opinions or judgments.
Describe how a particular story's or drama's plot unfolds in a series of episodes as well as how the characters respond or change as the plot moves toward a resolution.
Determine the meaning of words and phrases as they are used in a text, including figurative and connotative meanings; analyze the impact of a specific word choice on meaning and tone.
Analyze how a particular sentence, chapter, scene, or stanza fits into the overall structure of a text and contributes to the development of the theme, setting, or plot.