Free Dice for Teletherapy, Split Screen, Random Number Generator, No Print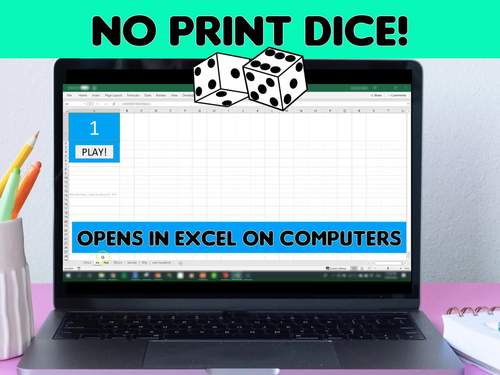 ;
Compatible with Digital Devices
The Teacher-Author has indicated that this resource can be used for device-based learning.
Description
Use this dice alternative when playing your student's favourite games in teletherapy! This interactive random number generator opens in excel on computers and is very easy to split screen with other activities. Also, you choose the number range!
When the play button is hit, a random number within the selected number range is shown in the colored square. In this document there is a sheet for each of the following number ranges.
1-3
1-6
1-10
1-15
1-20
1-50
1 -100
➡These different number ranges are located on different sheets in the one document, access them down in the bottom left hand corner.
Want an iPad based dice alternative? Check out my number spinners!
Don't have Excel? Did you know that people who work in education get full access to Microsoft Office 365 for free now!? Check out more info here (this is not an affiliate link, its just a cool thing I recently learnt!).
You will need excel on your computer for this to work, it doesn't work in google sheets!
The dice excel file may open in read only mode - this may affect your ability to use the dice so go ahead and click 'enable editing'.
This is a macro-enabled excel doc - the macros allow it to work as intended. You will likely get a security warning when opening this file due to the macros - it is safe to accept this warning. This is just a security feature that happens on all macro enabled files in Microsoft office. THE DICE WILL NOT WORK IF YOU DO NOT ACCEPT THIS WARNING.
Also, the unicorn board game shown in the preview video and image is not included in this download - it is just an example of how you could use the dice.
✨FUN TIP: Project this onto a smart board for a fun classroom activity.
Want more no-print speech therapy activities? Click here.
⚊⚊⚊⚊⚊⚊⚊⚊⚊⚊⚊⚊⚊⚊⚊⚊⚊⚊⚊⚊⚊⚊⚊⚊⚊⚊⚊⚊⚊⚊
I will be continuing to include more activities like this in my store. All new products are listed at 50% off for the first 24 hours after listing. Be sure to follow my store to stay up to date with my content and future deals.
Check out my no print articulation and language spinners here.
Psssst!! I also have a free articulation spinner set for the /s/ sound. This download is a great way to 'try before you buy' if you want to see how my spinners work.
⚊⚊⚊⚊⚊⚊⚊⚊⚊⚊⚊⚊⚊⚊⚊⚊⚊⚊⚊⚊⚊⚊⚊⚊⚊⚊⚊⚊⚊⚊
Related Products:
 ➜ No Print SPIN A STORY - Digital Story Prompt Spinners
➜ No Print Opposites Digital Interactive Notebook
➜ Spot The Difference Barrier Game for Children & Adults - Speech Therapy
⚊⚊⚊⚊⚊⚊⚊⚊⚊⚊⚊⚊⚊⚊⚊⚊⚊⚊⚊⚊⚊⚊⚊⚊⚊⚊⚊⚊⚊⚊
Tips For Customers:
Click the green star ★ above to follow my store. I often upload products similar to this one and I don't want you to miss out! 
If you enjoy this product, please leave positive feedback to gain credits you can use towards future purchases! Find out more here.
CLICK HERE to connect with me on Facebook
CLICK HERE to connect with me on Instagram
CLICK HERE to connect with me on Pinterest
If you have any questions or problems, please contact me through the Q & A section. Emails are also welcome at simplyspeakingslt@gmail.com

❤️A huge thank you to my amazing husband for helping me create this product!❤️
***Zephaniah 3:17***
                                         ⭐⭐⭐⭐⭐
                                          ⭐   Enjoy!  ⭐
                                          ⭐⭐⭐⭐⭐
Report this resource to TPT