Freelancing & Entrepreneurship - ESL Powerpoint and Google Slides for adults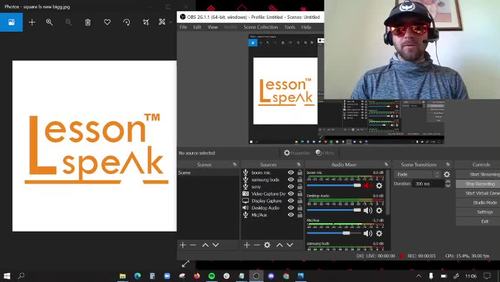 ;
11

th

- 12

th
,
Higher Education
,
Adult Education
Zip

Google Apps™
Includes Google Apps™
This bundle contains one or more resources with Google apps (e.g. docs, slides, etc.).
Products in this Bundle (24)
showing 1-5 of 24 products
Also included in
English conversation worksheets pdf - esl worksheets for adults conversationA growing bundle that currently includes all topics released as of April 15th, 2022.More than 65 topics, get the most bang for your buck! This growing bundle increases in price and in number of products over time and the soo

Price $388.98

Original Price $555.68

Save $166.70
Description
These English language teaching materials are perfect for the busy teacher who needs quality ESL speaking activities for adults.
Includes 20 topics. The perfect amount for a learner to become a successful independent contractor, freelancer, or entrepreneur in an English-speaking environment.
Total Package Length:
From the publisher (Johnny): This package is near and dear to me because I chose to specialize in the niche of ESL learners who are IT professionals and entrepreneurs who want to be more successful freelancers. I have also made the lifestyle transition from employee to freelancer as a teacher myself so I truly believe this is the future of work and I want to help others also be more successful. After teaching & developing curriculum for more than 2 years, I've narrowed it down to these 20 essential topics. This is what I use with my favorite clients.

Join the community!
Facebook Group: Click here
………………………………………………………………………………………………………………………………………………
Audience:
1) Coaches/Teachers:
Save time
Demonstrate authority & quality
Provide structured conversational lessons
2) Adult ESL Learners:
Learn to speak confidently
Discuss business in English
Encounter new perspectives
………………………………………………………………………………………………………………………………………………
The easiest conversational lesson you'll ever give! Simply follow these steps:
1.) Open the content
2.) Join video chat with student(s) & share screen
3.) Ask your student(s) to read directly off the slides & correct them where needed
4.) Watch the clock!
The LessonSpeak story: "I create business/conversational English topics to help freelance teachers deliver more value. When I started as a self-employed teacher, I struggled in transitioning from being an employee to being a freelancer. My biggest struggles at first were sourcing English speaking curriculum, finding clients, and charging enough to actually make a living. These obstacles are now a thing of the past. I have specialized in developing conversational English exercises since 2018 and plan on providing more curriculum and tools to teachers so that we can earn what we are truly worth. I continue teaching to this day, so you know the topics are vetted and fresh!"
- Johnny Ilca (LessonSpeak founder)
******************************************************************************************
Do a quick survey and get a free topic! Click here
Teaching Duration
1 Semester
Report this resource to TPT