French 1 & 2 Curriculum - Beginner Two Year Bundle - Read, Write, Speak, Listen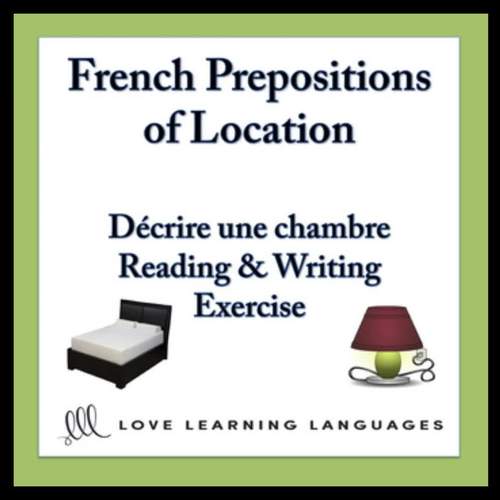 ;
Includes Google Apps™
This bundle contains one or more resources with Google apps (e.g. docs, slides, etc.).
Easel Activities Included
Some resources in this bundle include ready-to-use interactive activities that students can complete on any device. 
Easel by TPT is free to use!
Learn more
.
Products in this Bundle (311)
showing 1-5 of 311 products
Description
Do you need your whole French curriculum covered for two years? This French 1 & 2 bundle includes over 300 French teaching resources and review activities. This go to resource will save you tons of time and your students will stay engaged with the variety of activities.
This bundle includes everything you will need for two years of instruction.
This French curriculum is divided into 8 units, and will carry you through French 1 & 2. I recommend doing one unit per quarter for two years. To help you access your files easily, all resources are listed in this bundle in order of the unit.
The following types of resources are included:
conjugation jeopardy games
conjugation and grammar dice games
conjugation and grammar quel dommage games
warm-ups
bell-ringers
ice breakers
audio recorded regular verb drills
speaking activities
reading comprehension activities
task and practice cards
worksheets and exercises
sentence stems for speaking and writing
quizzes
crossword and sudoku puzzles
cootie catchers - fortune tellers
20 questions games
board games
7 famille games
scrambled sentences
culture lessons in English and French
activities to practice numbers
dots & boxes games
classic French Taboo game
themed vocabulary enrichment
...and so much more!
This is a complete curriculum that can be used as a stand-alone resource or used to supplement an existing curriculum. All answer keys are included.
This bundle values at over $900, so getting the entire bundle is a huge savings.
This complete curriculum bundle contains the following unit bundles and extra resources.
1 SUBJECT PRONOUNS & ALPHABET
2 NOUNS AND ARTICLES
3 NUMBERS 0-100
4 MONTHS AND DAYS
5 COLORS
6 ÊTRE - PRESENT TENSE
7 ÊTRE EXPRESSIONS
8 ADJECTIVE AGREEMENT  
1 REGULAR PRESENT TENSE -ER VERBS
2 FORMING QUESTIONS
3 NEGATION
4 AVOIR - PRESENT TENSE
5 AVOIR EXPRESSIONS
6 TELLING TIME
7 ANTONYMS
1 ÊTRE OU AVOIR?
2 DESCRIPTIVE ADJECTIVES
3 POSSESSIVE ADJECTIVES
4 PREPOSITIONS OF LOCATION
5 DISJUNCTIVE PRONOUNS
1 ALLER - PRESENT TENSE
2 ALLER EXPRESSIONS
3 FUTUR PROCHE
4 INTERROGATIVE WORDS WITH QUESTIONS
5 PRENDRE, COMPRENDRE, AND BOIRE
6 PARTITIVES
7 REGULAR PRESENT TENSE -IR VERBS
1 FAIRE - PRESENT TENSE
2 FAIRE EXPRESSIONS
3 IRREGULAR PRESENT TENSE -IR VERBS
1 DEMONSTRATIVE ADJECTIVES
2 PASSÉ COMPOSÉ WITH AVOIR
3 INDIRECT OBJECT PRONOUNS
4 REGULAR AND IRREGULAR -RE VERBS
1 PASSÉ COMPOSÉ WITH ÊTRE
2 DIRECT OBJECT PRONOUNS
3 DIRECT AND INDIRECT OBJECT PRONOUNS TOGETHER
4 ADVERBS
5 FORMATION OF THE IMPERFECT
1 PASSÉ COMPOSÉ vs IMPARFAIT
2 SAVOIR AND CONNAÎTRE
3 VOULOIR - PRESENT TENSE
4 POUVOIR - PRESENT TENSE
5 DEVOIR - PRESENT TENSE
6 VOULOIR, POUVOIR, DEVOIR TOGETHER
Supplementary Resources:
Être, Aller, Avoir, Faire Bundle
French Circling Review Activity
Classic French Taboo Speaking Game
Passé Composé - Être ou Avoir Resources
Listening and Audio Drills
Reading Comprehension Texts
French Culture Lessons
THEMED VOCABULARY RESOURCES
L'ECOLE
LA RENTREE
L'HEURE
LA FAMILLE ET LES AMIS
LES PROFESSIONS
LES AÉROPORTS ET LES GARES
LES HÔTELS
LES VACANCES
LA MAISON
LA VILLE
LES SPORTS
LE RESTAURANT
LA NOURRITURE
LES VÊTEMENTS
What are teachers saying about these resources?
⭐⭐⭐⭐⭐ "I love the creative ways you've come up with to reinforce grammar!"
- Français with Mlle Feuille
⭐⭐⭐⭐⭐ "Always clear directions and easy to use! Perfect." - Erin S.
⭐⭐⭐⭐⭐ "So much is included.  I love that I don't have to create my own worksheets and games to practice these verbs and that listening comprehension activities are provided too." - LanguageCraft Colorado
⭐⭐⭐⭐⭐ "Mes élèves de secondaire aiment tellement ces cartes; elles sont parfaites pour la révision/ la pratique indépendante." - Jacqueline S.
⭐⭐⭐⭐⭐ . "Well-done, interesting task cards. Can be used in written or verbal ways."
- Lauren K.
⭐⭐⭐⭐⭐ . "Excellent. Thorough and incredibly detailed. The timer is a little too fast for my students (I have the whole class write the answers at the same time so that we get "full engagement") but otherwise it is just like Jeopardy! Great resource."
- French teacher in the United States
⭐⭐⭐⭐⭐ . "Wonderful resources! Diverse and very useable! My students love the games and practice!"
- Daniel B.
You may also be interested in the following curriculum bundles for upper levels:
My vocabulary themed speaking prompt cards are not included in this curriculum bundle.
Don't need everything in the bundle? Check out my Build Your Own French Bundle option. Select resources from my store, and if they total $20 or more I'll quickly create a special order bundle for you at 20% off. No sale items or other already discounted bundles can be included.
Newsletter - French Freebies + Flash Sales
LICENSING TERMS: This purchase includes a license for one teacher only for personal use in their classroom. Licenses are non-transferable, meaning they can not be passed from one teacher to another. No part of this resource is to be shared with colleagues or used by an entire grade level, school, or district without purchasing the proper number of licenses.
COPYRIGHT TERMS: This resource may not be uploaded to the internet in any form, including classroom/personal websites or network drives, unless the site is password protected and can only be accessed by students.
Copyright © Love Learning Languages, Jennifer Crespin
Permission to copy for single classroom use only.
Please purchase additional licenses if you intend to share this product.
Teaching Duration
Lifelong tool
Report this resource to TPT