French 1 Curriculum with Comprehensible Input Growing Bundle | Distance Learning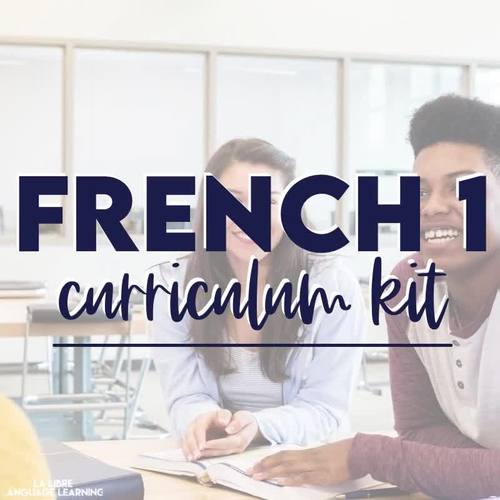 ;
Google Drive™ folder

Webquests
Includes Google Apps™
This bundle contains one or more resources with Google apps (e.g. docs, slides, etc.).
What educators are saying
I'm discovering that anything from Devon is worth its weight in gold. Great resources to support new-to-CI teachers like myself! Can't recommend this highly enough.
My students have just started using this in my classes and are so engaged! Thank you so much for creating and sharing!
Products in this Bundle (40)
showing 1-5 of 40 products
Description
Focus your energy back on your students in your and get all the essentials you need for teaching present tense grammar, high-frequency verbs, and French 1 vocabulary in one place! This proficiency-centered bundle includes Francophone classroom decor, , high-frequency word walls, a Mardi Gras Super 7 culture reading, several sets of contextualized flashcards and vocabulary games, a song activity, an interactive notebook for teaching irregular present tense verbs in context, and much more!
**NEWLY ADDED DIGITAL RESOURCES FOR DISTANCE LEARNING**
Scheduled Additions:
Sold individually, these products are over $75--this bundle will be well over $100 with the scheduled additions. Save 20% and lock in your price for all future lessons.
This is a growing bundle and will continue to grow as I create new resources- get it now while the bundle is at this low of a price! The previous price was $45, and it will only go up as new resources are added!
Included Resources:
Editable Infographic-Style French Syllabus (all levels)
Social Justice Unit - Je Suis Chez Moi (
Digital Interactive Notebooks for High Frequency Verbs
High-Frequency Word Wall (over 100 words)
Francophone Country Distance Learning Project
Francophone Country Labels and Bulletin Board Decor Set with Webquest
Sweet 16 Verb Posters
Contextualized Flashcards Sets: Telling Time, Food Vocab, House & Furniture
J'ai, Qui A...School Supplies Vocabulary CI Game
Editable Speaking Exam with Task Cards
Holiday Readings with High-Frequency Focus-Mardi Gras
Song Activities for Coeur de Pirate, Stromae, and Angelique Kidjo
Special Person Posters for La Personne Spéciale Speaking Activity
Edith Piaf HW Passes
Letters to Santa Christmas Writing Activities
Follow my TpT store by clicking the green star above to be the first to find out about sales & events!
----------------------------------------------------------------------------------------------------------------------
Read More on the Blog:
You can read more about how I use comprehensible input in my high school world language classes on my blog here.
See this resource in action with lesson plan ideas and related resources in this blog post: How to Map out a French 1 Curriculum for High School
Ready to switch to proficiency but not sure where to start? CI methods don't have to take over your weekends. This free 9-part roadmap shows you how to implement teacher-friendly strategies in the umbrella of CI and proficiency oriented instruction. Download the Free Roadmap to Transition to Proficiency here
You May Also Like:
1. FREEBIE - Me Voici Digital Activity
Digital Interactive Notebook for Back to School in French 1-2
2. Black M - Je Suis Chez Moi from TpT Teach for Justice Collection
Social Justice Song Unit for French 1
3. Inductive Grammar with Adjectives:
French Interactive Notebook for Personality Traits
4. Picture Talk - Les Maisons à Travers le Monde
High Frequency Verbs & Global Culture Unit
5. Francophone Virtual Field Trip - Martinique
Explore Carnival & Martinique with this Authentic Text Project
PSST... Save $$$ on this in the yearlong French 1 Curriculum Kit Bundle for Comprehensible Input Teachers
Report this resource to TPT