French Clothing and Colors Les vêtements Bingo Game Digital and Printable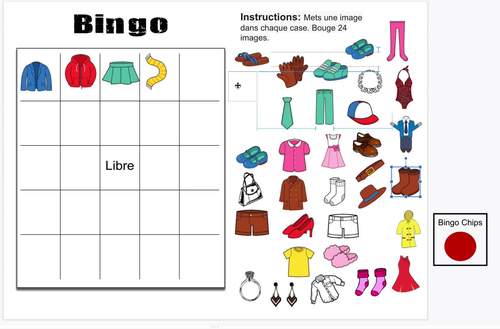 ;
Also included in
Save time! Save 20% by buying all of my French curriculum for French One, Two, Three, and Four in one bundle. Resources include Grammar and Vocabulary PowerPoints, Illustrated TPRS Stories and Speaking Activities, Interactive Notebook Activities, Lesson plans and curriculum, Google Drive Activities

Price $166.50

Original Price $211.44

Save $44.94

Save 15% by buying all of my French 1 curriculum in one bundle. The resources include French Grammar and Vocabulary PowerPoints, Illustrated TPRS Stories and Speaking Activities, Interactive Notebook Activities, lesson plans and curriculum, Google Drive Activities, autocorrecting Google Forms activ

Price $125.50

Original Price $153.43

Save $27.93

I love the autocorrecting tests because they do all the work for me. This French Google Drive Activities, French Tests, and Printables Bundle includes Interactive Notebook Activities, Google Drive Activities, French assessments, both printable and digital, autocorrecting Google Forms activities, and

Price $57.50

Original Price $82.90

Save $25.40

French Bingo Games to practice La nourriture, les vêtements et les couleurs vocabulary: My students begged me to play Bingo again. It's a great way to provide comprehensible input and repetition in context. The scripts use the vocabulary in complete sentences. Digital versions of Bingo Cards are i

Price $4.50

Original Price $6.00

Save $1.50

This bundle includes everything you need to teach the French clothing and colors vocabulary in context: PowerPoint, printable and digital interactive notebook activities, Google Drive activities, student handouts, listening activities, digital and printable Bingo games, paired activity, autocorrecti

Price $14.00

Original Price $20.50

Save $6.50
Description
My students beg me to play Bingo games. This French Clothing Les vêtements Bingo activity has printable and digital versions and is a fun way to provide comprehensible input into your lesson on, "Les habits et les couleurs" because the scripts use the clothing and colors vocabulary in complete sentences. Students internalize the vocabulary as they play. Digital Bingo cards are included for distance learning and 1:1 classrooms.
This product includes the following resources:
39 Bingo cards of clothing images
Bingo Guide for students to look at as they play
Teacher Script: Words in context for comprehensible input
Student Handout on French Clothing vocabulary
Google Slides digital version in which each student plays with a different slide
Google Slides digital version in which students move the clothing items to the boxes, listen to the script, and place the digital chips on the items.
Audio file for digital version
Teacher instructions for digital version
THIS PRODUCT IS INCLUDED IN THE FOLLOWING MONEY-SAVING BUNDLES:
French Digital Activities Bundle for Google Drive
French Clothing PowerPoint and Curriculum Bundle
French One, Two, Three, and Four Bundle
SAVE MONEY by buying the French Food and Clothing Bingo together: French Bingo Games for Les vêtements et la nourriture
******************************************************************************************************************************
OTHER PRODUCTS THAT MAY INTEREST YOU:
La nourriture French Food Vocabulary Digital and Printable Bingo
French Food Vocabulary TPRS Stories
La famille PowerPoint and Activities
To receive freebies and notifications of new products, click HERE to follow my store!
Teaching Duration
30 minutes
Report this resource to TPT