French Descriptive Adjectives Les adjectifs français PowerPoint and Activities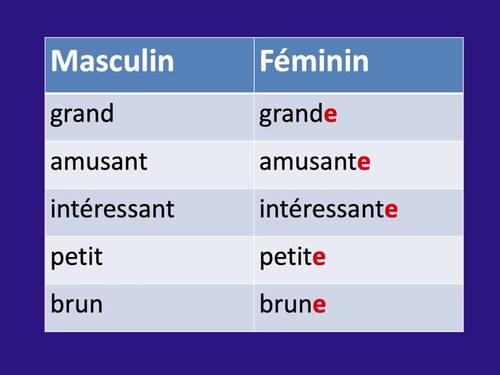 ;
Also included in
Save time! Save 20% by buying all of my French curriculum for French One, Two, Three, and Four in one bundle. Resources include Grammar and Vocabulary PowerPoints, Illustrated TPRS Stories and Speaking Activities, Interactive Notebook Activities, Lesson plans and curriculum, Google Drive Activities

Price $166.50

Original Price $211.44

Save $44.94

Save 15% by buying all of my French 1 curriculum in one bundle. The resources include French Grammar and Vocabulary PowerPoints, Illustrated TPRS Stories and Speaking Activities, Interactive Notebook Activities, lesson plans and curriculum, Google Drive Activities, autocorrecting Google Forms activ

Price $125.50

Original Price $153.43

Save $27.93
Description
This bundle includes "Les adjectifs" PowerPoint with captivating visuals, hands-on activities, digital and Google Drive Activities, listening activities, worksheets, test (printable, digital, and self-correcting Google Forms versions), a websearch, competition, and student handout which help students describe people using the French adjectives. Listening, reading, speaking and writing practice of the French adjectives. All printables and PowerPoints are editable.
This product includes the following resources:
139-slide animated PowerPoint
a) Engaging visuals demonstrating each adjective
b) Check-for-understanding exercises
c) Gender endings practice / spelling changes from masculine to feminine
d) Activity in which students write complete sentences with noun/adjective agreement
e) Activity in which students describe the visuals (Comment est…?)
f) Explanation of adjectives that go before and after nouns
Websearch Activity in which students search the Internet to find descriptive details about famous people and then describe them
Activity in which students answer questions based on visuals
Activity in which students write the opposite adjective
Activity in which students complete the sentence with the logical adjective
PowerPoint Answers to activities
Activity in which students read the description and draw a representation of what they read
Listening practice in which students listen to a script, color in the drawings and draw according to the descriptions
Script for Listening Activity
Competition in which students listen to a script and draw what they hear
Activity in which students write complete sentences describing the visuals
Student Handout with 67 adjectives, related vocabulary with hair and eye color (Il a les yeux verts), a chart demonstrating gender endings, and charts demonstrating the use of adjectives before and after nouns as well as the meaning differences
Position of Adjective Competition in which students write or say complete sentences placing the adjective before or after the noun: C'est un bel homme.
Test on Plurals / Les pluriels in which students change the sentences from singular to plural changing the subject pronouns, verb, noun, and / or the adjectives: Il a une voiture. Il a des voitures. Ils ont des voitures.
Google Slides digital versions of all activities and PowerPoints for use in Google Classroom, other Google and digital platforms, and distance learning
Google Drive Activities which start with recognition and end with student production: Students match the sentences to the images, then describe the images using French adjectives, (Comment sont-ils? Décris les gens), then write sentences using the appropriate masculine or feminine adjective (Écris des phrases complètes.)
****************************************************************************************************************************
OTHER PRODUCTS THAT MAY INTEREST YOU:
French Classroom Objects PowerPoint and Interactive Notebook Activities
French être PowerPoint and TPR Story
La famille PowerPoint and Interactive Notebook Activities
To receive freebies and notifications of new products, click HERE to follow my store!
Report this resource to TPT