French Phonics | Year Long Activity Bundle | Digital & Printable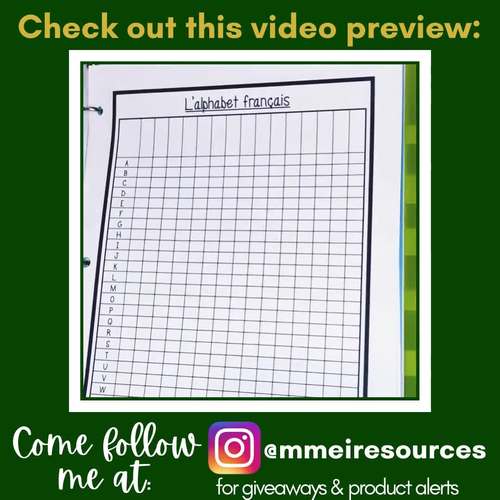 ;
What educators are saying
I loved this resource we started using these at the beginning of our classes and i think they really helped my students to succeed
Products in this Bundle (7)
showing 1-5 of 7 products
Description
Check out this French phonics resource perfect for bell work or centres and more!
Do you find that your students are hesitant to speak French?
Do your students lack the confidence to participate in class?
This resource will help your students learn 51 of the most common sounds in the French language and build their confidence to speak and participate in class. This is a comprehensive resource designed for you to use throughout the entire school year. 
Consistency is one of the keys to classroom management. You can use this resource as a weekly bell ringer activity if you so choose. Once you've explained it to your students a few times, you will not be required to explain it again. It can also be left behind for students to work on days when you're absent from school. It is also great for helping English Language Learners who are also new to French, to learn the sounds of the language. 
This resource includes:
The French alphabet handout with a QR code to a YouTube video to learn the song
2 alphabet assessment sheets for you to assess if they know the letters of the alphabet
Les accents en français handout, worksheet and answer key
Les sons handout, an overview of all 51 sounds included in the resource (Only included in the bundle)
Les sons 2 page table - Have your students write out the way they hear the sounds pronounced, have them write a word for that sound, draw a picture, or more. Choice is yours. (Only included in the bundle)
51 sounds handouts categorized in the following categories: Vowels, Nasal Sounds, Liquid Sounds, Consonants, Diphthongs, Combined Vowels & Other Sounds
Answer Keys
Please see product descriptions for each individual set in this bundle for a list of sounds included in this resource.
Please note: Pages in the resource are not numbered so that you can use them in any order you choose. 
Take a peek at the preview for a sample worksheet.
Both Easel & Google Slides version included.
Have a question about the product before you purchase it? I'd be glad to answer! Please ask. 
Please feel free to click and send me an email with any feedback you may have!
Alternatively, I would greatly appreciate a review of the product on TpT so I can improve it.
And remember, leaving feedback earns you TPT Credits which may be applied to your future purchases.
Let's connect on Instagram. Click here.
Looking for French FREEBIES? 
Join my V.I.P. list to get exclusive FREEBIES and GIVEAWAY information sent straight to your email. Click . 
Thanks and enjoy!
♡ Mme. I
Report this resource to TPT