French Pocket Chart Sentence Writing - Les Phrases Fantastiques BUNDLE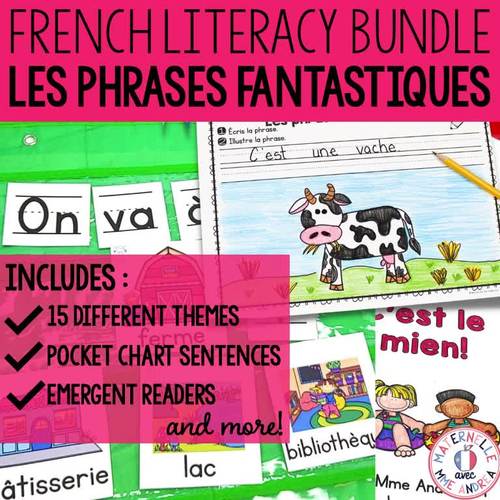 ;
What educators are saying
I use this every morning during our circle time! Great tool to practice vocab words, reading, and sentence building everyday! Easy to differentiate for each student as well!
I use this to start building sentence structures with my students. Having access to the Boom card bundle has helped increase they centres I can do and to incorporate listening as well.
Products in this Bundle (15)
showing 1-5 of 15 products
Description
Looking for an engaging, effective way to get your French emergent readers writing sentences, practicing sight words, directionality, spaces, and one to one correspondance, while also learning new vocabulary words and being exposed to masculin/féminin? Use these thematic French pocket chart predictable sentences to get your primary students practicing a wide variety of reading and writing skills as they build and write each sentence!
This product is a bundle of all of the Phrases fantastiques products in my store!
French Pocket Chart Resources Included:
This bundle includes 15 different Phrases fantastiques sets - more than enough to keep your students engaged all year long. By switching up the cards and words to match your themes, you will keep your students excited! Each set includes multiple different sentences, vocabulary cards, 2 emergent readers, recording sheets, and an "I Can" card to turn this activity into a literacy centre. All you need is a pocket chart!
Check out the preview above for a closer look.
This is a Bundle, which means that I am offering you the chance to snag all of my Phrases Fantastiques sets together for a lower price. If purchased separately, the sets in this Bundle are worth 60$!! But, you can grab it here for over 20% off!
The bundle price is 45$ - 15$ off. Each of the 15 sets are listed separately in my store for 4$ each, so that's like getting almost four sets FREE!
If this is a resource that you want to use all year long, buying the bundle is definitely the way to go!
Each set contains approx. 30 pages.
CLICK HERE TO SEE THE DIGITAL BOOM CARDS VERSION OF THIS PRODUCT!
What are other teachers saying about this French pocket chart BUNDLE?
⭐⭐⭐⭐⭐ "This is such an amazing resource! It truly makes teaching my grade 1s how to write sentences SO much easier. It is laid out so well, varying sentence starters and including so many colourful pictures to help students identify the nouns. Merci!" -- Sarah K.
⭐⭐⭐⭐⭐ "My students and I love this resource. We use it every day in the second half of the year to build our vocabulary and to learn how to make sentences together. I have seen a huge improvement in their ability to create sentences that they can understand and read back!" -- Alicia D.
⭐⭐⭐⭐⭐ "This is hands down one of the BEST resources for the French Kindergarten classroom. I've used it for whole group instruction, small group, as well as in the writing centre. The students love making use of this resource as much as I do. You can clearly see the progression in their learning. I greatly appreciate Mme Andrea and all of the hard work she puts into her resources. This one is definitely a favourite. " -- Alanna C.
************************************************************************************************
*As this is a Teachers pay Teachers product, this download entitles the purchaser to use it in ONE classroom only. With your purchase, you are able to return and buy additional licenses for colleagues at a reduced rate. Thank you so much for respecting my time and effort!*
Don't forget to click the green star by my name to Follow Me and be among the first to find out when new products and Freebies are added to my store! I would also love if you left me some Feedback, by going to your My Purchases page and clicking Provide Feedback. This gets you credit you can apply towards future purchases!
Report this resource to TPT