French Prepositions of Location Boom Cards, Digital, French Boom Cards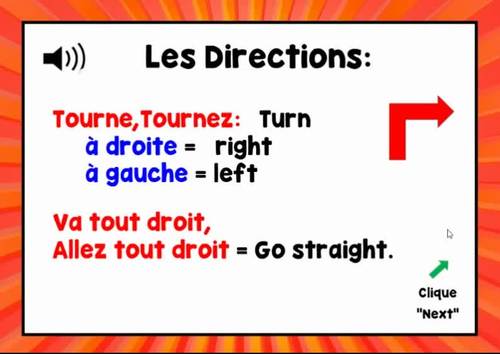 ;
2

nd

- 12

th
,
Higher Education
,
Adult Education
,
Homeschool
Compatible with Digital Devices
The Teacher-Author has indicated that this resource can be used for device-based learning.
Also included in
75 decks of 2000+ self-correcting French Boom Cards for French 1 and 2 students. The perfect tool for mastering pronunciation, spelling, conjugation, and usage in context. Great for sub plans, homework, listening, verb practice. More decks will be added to this bundle as they become available.Boo

Price $129.99

Original Price $193.78

Save $63.79

The highly anticipated Volume 2 is finally out! 2500+ pages of French lesson plans, sub plans, Boom Cards, classroom flashcards, and online lessons! Save yourself hours of work and spice up your classroom with fun, engaging activities. Everything you need to spice up your French classroom!Here's w

Price $249.99

Original Price $300.67

Save $50.68

All My French Lesson Plans, Activities, and Games, Vol. 1 + 2 includes 4500+ pages of fun, engaging activities that will get your students reading, writing, and speaking in the target language. These resources will bring fresh energy to your class, will increase your students' fluency, and will sav

Price $399.99

Original Price $532.28

Save $132.29
Description
50+ French prepositions of location Boom Cards will help your students master giving directions and telling where to find objects. French Boom Cards are digital, self-correcting and 100% in the target language. Just send the link and your job is done! Great for French sub plans!
Includes 5 types of flashcards:
1. Study the prepositions (French to English).
2. Listen to the preposition, look at the image, and drag and drop to next to the corresponding expressions.
3. Listen to the preposition and match it with its corresponding photo.
4. Fill in the blank sentences.
5. Listen to 4 prepositions and select the sound file that matches the photo.
Vocabulary: dans, devant, sur, sous, entre, près (de), loin (de), hors de, tourne/z à gauche, tourne/z à droite, va/allez tout droit, à gauche de, à droite de, à côté de.
** You will need to create a free Boom Learning account to access these flashcards - it's super easy to set up an account.
Teaching Duration
45 minutes
Report this resource to TPT