French Reflexive Verbs Boom Cards, French Reflexives Boom Cards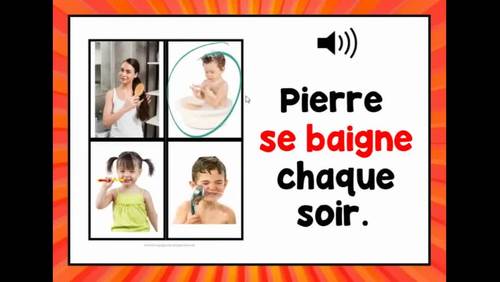 ;
2

nd

- 12

th
,
Higher Education
,
Adult Education
,
Homeschool
Compatible with Digital Devices
The Teacher-Author has indicated that this resource can be used for device-based learning.
What educators are saying
Great BOOM practice for both form and vocabulary when it comes to Reflexive Verbs. I love the variety of activities and my students like the self-paced practice.
Products in this Bundle (4)
Bonus
All the Decks in One Document
Also included in
These 20 leveled decks of 500+ French Boom Cards Verbs digital flashcards will help your students master the meanings of 100 common French ER verbs, IR verbs, RE verbs, reflexive verbs, expressions with avoir, and savoir vs. connaître. French Boom Cards are self-correcting and 100% in the target lan

Price $39.99

Original Price $59.96

Save $19.97

75 decks of 2000+ self-correcting French Boom Cards for French 1 and 2 students. The perfect tool for mastering pronunciation, spelling, conjugation, and usage in context. Great for sub plans, homework, listening, verb practice. More decks will be added to this bundle as they become available.Boo

Price $129.99

Original Price $193.78

Save $63.79

The highly anticipated Volume 2 is finally out! 2500+ pages of French lesson plans, sub plans, Boom Cards, classroom flashcards, and online lessons! Save yourself hours of work and spice up your classroom with fun, engaging activities. Everything you need to spice up your French classroom!Here's w

Price $249.99

Original Price $300.67

Save $50.68

All My French Lesson Plans, Activities, and Games, Vol. 1 + 2 includes 4500+ pages of fun, engaging activities that will get your students reading, writing, and speaking in the target language. These resources will bring fresh energy to your class, will increase your students' fluency, and will sav

Price $399.99

Original Price $532.28

Save $132.29
Description
Do your students struggle to use reflexive verbs correctly? These 120 engaging, digital French Boom Cards will help your students master les verbes réfléchis. Great for listening, reading, spelling, and conjugating practice.
The best part is that these 4 sets of flashcards are digital, self-correcting, include native speaker sound files, and are 100% in the target language! Just send the link and your work is done.
Perfect for in-class review, homework, or French sub plans!
Recognition (20 flashcards):
Students listen to the sentence and then select the photo that corresponds with the verb. This activity also sneaks in listening practice and sentence decoding without needing to understand every word.
Listening (21 flashcards):
Students listen to 4 French reflexive verbs and choose the correct one based on the photo. Great listening practice and helps with pronunciation! Students listen as many times as they'd like.
Writing (24 flashcards):
Students listen to a reflexive verb in French and then write the je form in the box. Great for listening and spelling practice!
Conjugating (24 flashcards):
Students fill in the correct verb form in a sentence. They can listen to the sound file for a hint - the infinitive form of the verb.
Verbs: s'amuser, s'appeler, se baigner, se brosser, se coucher, se dépêcher, se doucher, s'habiller, se laver, se lever, se maquiller, se peigner, se raser, se regarder, se réveiller.
** You will need to create a free Boom Learning account to access these flashcards - it's super easy to set up an account.
Here's what teachers are saying about Boom Cards:
* "The resources from World Language Cafe are always great, but these have been an absolutely lifesaver! The variety of topics, the variety of strategies used and the quantity of enrichment are all important for me to have with my students! Always thrilled with these resources!"
* "This is a great resource for my students! Seeing the images and hearing the words/sounds provide extra input that really helps them learn!"
* "Boom Cards are an excellent learning tool. They provide the student with immediate feedback to their answers. Excellent!"
Teaching Duration
3 hours
Report this resource to TPT