French passé composé notes, exercises,and activities- bundled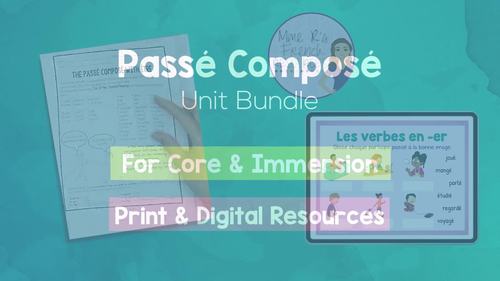 ;
Easel Activities Included
Some resources in this bundle include ready-to-use interactive activities that students can complete on any device. 
Easel by TPT is free to use!
Learn more
.
Compatible with Digital Devices
The Teacher-Author has indicated that this resource can be used for device-based learning.
What educators are saying
This bundle has everything you need to teach or review passé composé. Thank you for making such a comprehensive bundle.
I used this both virtually and in person, and it really helps with passé composé, which can be a tricky concept for learners
Products in this Bundle (22)
showing 1-5 of 22 products
Also included in
This French curriculum bundle of resources for beginners is perfect for the American French 2 class or Canadian Core French students who have had previous French instruction. With 8 full French units for advancing beginners, this has everything you need for the entire year.What types of resources ar

Price $400.00

Original Price $603.25

Save $203.25
Description
This bundle for the French passé composé a complete resource to help you teach, reinforce, and assess regular and irregular verbs conjugated with avoir and être. Full of practical and thorough notes and exercises, speaking activities, task cards, games, and a final project, it will provide you with so much variety for your French 2, core, or immersion classes.
Students will love the variety of games and speaking activities in this passé composé unit, and you will love the hours of prep time saved with these ready-to-go activities!
Here's what you'll get:
Detailed notes and exercises for the passé composé - English & French versions
Exit tickets
Puzzles
Dice games
2 sets of speaking cards
3 find someone who... activities
Board games
Task cards and scoot game
Trip to Paris PowerPoint project
7 sets of digital task cards for Boom Learning℠
Posters
Verb drill games
Activities for PowerPoint™️ or Google Slides™️
Dominoes game
J'ai... qui a... ?
Unit test for a formal assessment. SEE BONUS FILE.
Who is this best for?
This is perfect for beginning French students or as a review with intermediate students. Includes avoir and être verbs. French and English versions included for use in FSL or immersion.
_________________________________________________________________________________________
What do teachers say about this bundle?
⭐️⭐️⭐️⭐️⭐️ "This resource contains everything I needed to create my unit for passé composé for my grade 6 immersion class (we have an odd entry point, they start in grade 4). It is very thorough, easy for the kids to follow, and saves a TON of prep time. I can't speak highly enough about this resource. Whether you're introducing your students to passé composé or simply reviewing it, you need this."
⭐️⭐️⭐️⭐️⭐️ "This bundle is fantastic! I love how there are a variety of exercises students can complete and all are well scaffolded."
⭐️⭐️⭐️⭐️⭐️ "This is a fantastic resource and really is a time saver when having to prepare lessons on the passé composé. The activities are thorough and easy to follow and are an engaging way to practice this concept!"
________________________________________________________________________________________
⚠️These documents are not editable and will not be provided in an editable format. Thank you for understanding.
Please read!
To use Boom Cards, you must be connected to the Internet. Boom Cards play on modern browsers (Chrome, Safari, Firefox, and Edge). Apps are available for Android, iPads, iPhones, and Kindle Fires. For security and privacy, adults must have a Boom Learning account to use and assign Boom Cards. You will be able to assign the Boom Cards you are buying with "Fast Pins," (play provides instant feedback for self-grading Boom Cards). Fast Play is always a free way for students to engage with Boom Cards decks. For additional assignment options you'll need a premium account. If you are new to Boom Learning, you will be offered a free trial of our premium account.Readhere for details: http://bit.ly/BoomTrial.
©Mme R's French Resources
All rights reserved by author.
Permission to copy for single classroom use only.
Report this resource to TPT