Frida Kahlo Sugar Skull Craft - Womens History Month Art Project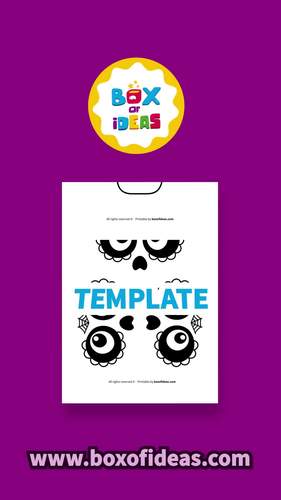 ;
What educators are saying
My kids did an amazing job with this project! Each student made their's look a little different! Our classroom looked amazing!
This was so cute! We used along with Hispanic Heritage month with Frida Kahlo and Dia de los Muertos. They loved decorating the skulls.
Also included in
This bundle of fun Hispanic activities are designed by a Mexican teacher-author with a professional design background.Save that precious budget and get amazing value by purchasing this maravilloso Mexican bundle that you can benefit from all year.Great bundle for Spanish class maestras y maestros, b

Price $13.99

Original Price $20.00

Save $6.01

Authentic Dia de los Muertos sugar skulls craft, Frida Kahlo Sugar Skulls Day of the Dead art project and Alebrijes Mexicanos activity adaptable to all grades.For a budget-saving All-Year Mexico Bundle, see our: MEXICO ACTIVITIES BUNDLE_____________________________________One of the best Dia de los

Price $5.99

Original Price $10.00

Save $4.01
Description
These adorable Dia de los Muertos sugar skulls of Frida Kahlo are the perfect Day of the Dead art project in October. One of the best Dia de los Muertos activities is making colorful classroom decorations like this Frida sugar skull craft. They look beautiful displayed all together as a collaborative art project on a Spanish bulletin board during Hispanic Heritage Month and October.
_____________________________________
Don't miss out on this money saving bundle: MEXICO ACTIVITIES ALL-YEAR BUNDLE
_____________________________________
Dia De Los Muertos Ofrenda Decoration
Ofrendas (shrines) for Dia de Los Muertos traditionally display portraits of the person or people that the 'ofrenda' is dedicated to. In Mexico, many ofrendas are made for famous Mexican people who passed away, and Frida Kahlo is one of the most popular personalities who is often chosen as the honoured person in these types of ofrendas.
This craft looks beautiful as a decoration for a Frida Kahlo ofrenda.
Save $$ with our DAY OF THE DEAD MINI BUNDLE.
► An original Hispanic Heritage Month craftivity
Each student can design their own Frida Kahlo paper plate craft, adding their own individual and original creative touch then they can be brought together as part of a women's history month themed classroom bulletin board.
The printable pack includes Frida's face, Frida's earrings, Frida's flowers - all based on items she wore in real life which are present in her self portraits. 
Use this Frida Kahlo craft as one of your dia de los muertos, hispanic heritage month or cinco de mayo activities.
_______________________________
You might like: Morning Greetings Poster (Social Distancing options in English or regular options in Spanish)
_______________________________
► DAY OF THE DEAD CRAFTIVITY INSTRUCTIONS
Cut out and paste the frida skull's eyes and nose (or should I say: "nose-hole") to a paper plate (or any other surface, like card). Alternatively, use the provided print-ready skull template with Frida's face on it on page 4.
Chop the paper plate's "cheeks" or use the template to trace the outline of the skull on your chosen surface.
Decorate your sugar skull however you want! Use the provided fall coloring pages with Frida skull's eyes, earrings and flowers - Colored pens are great for quick results but also look great with other materials such as paint or sticking bits of paper scraps.
BONUS TIP: To practice some writing skills encourage the children to write their name on the skull's forehead, just like we do traditionally in authentic Mexican sugar skulls.
► Frida Kahlo Spanish class activity
Adapt this Frida Kahlo project as part of your Spanish class activities or for your Spanish classroom door decor. You can practice Spanish vocabulary by learning the different words of the elements of the Frida you create (ojos, cejas, pendientes, flores, etc). Each student can then write in Spanish about Frida (maybe even a poem) on the back of the paper plate and this can be presented to the whole class. This a fun way to practice Spanish and the research involved will also help your students learn about Mexican culture and Latin America, so this printable can also be used during Hispanic heritage month. 
► About the Mexican festivity
In modern Mexico culture we celebrate Dia de Los Muertos (one day after Halloween). This Mexican tradition honors life after dead, if that makes sense... I would say that Day of the Dead is more about gathering with your loved ones to remember the ones that have left us. We do so in a positive light, remembering what our "difuntos" used to like when they were walking on this Earth. That is why we set up "ofrendas" (offering altars) with their favorite treats. If you have seen the recent movie you can get a good idea of what this hispanic festivity is about.
In modern Mexico culture we do celebrate Halloween but we cherish more Day of The Dead as a Mexican tradition that has been around for longer.
►  About the legendary famous artist
Frida Kahlo was a Mexican artist known for her famous paintings and self-portraits. Her style was defined by her unique surreal look and fashion sense which included incredible jewelry, earrings and fantastic floral hair arrangements. Frida Kahlo is one of history's most important women as she challenged the way we think about women's appearances, art, fashion and feminism. She was unable to walk for parts of her life but this did not stop her from being a true pioneer. Her muse was herself (she had a mirror above her bed so she could paint herself when she was bedridden) but she was also heavily influenced by Mexican folk art.  This activity is therefore great for celebrating Frida Kahlo as a famous woman in history, but also to celebrate Mexican culture. 
_______________________________
You might like this fall activity too: Recycled City (Community Building Activity)
_______________________________
► Why is this resource useful?
Early finishers activity in Spanish class
Spruce up your Spanish classroom decor
Use this fall craft to grow your collection of Spanish activities
After-school club or Spanish club time-filler
Complement a famous women in history lesson, Day of the Dead lesson or Mexico culture unit
A low-prep Hispanic heritage month project / Women History Month project.
Create a colorful bulletin board or display with this fall craftivity.
Making a quick last-minute DIY Halloween costume to help the student that forgot to bring one (teens love La Catrina skull masks these days)
Decorate a hispanic heritage month bulletin board or display
Since this activity welcomes all levels of artistic skills, it has proven to be successful with students ranged from Pre-K, Kindergarten, Elementary up to Middle School and High School. The sugar skulls can be as simple or as complicated as each student chooses.
► WHAT'S INCLUDED
PDF file with the following:
1 page with Frida's earrings
1 page with Frida's head flowers
1 page with 3 upper Frida Skull Face
1 page with 1 Frida head outline 
1 page with 1 Frida Skull head to decorate (low prep version)
* Please see the preview before purchasing.
_______________________________
► Other teachers are also loving:
_______________________________
* Earn TPT credit to use on future purchases:
Go to your My Purchases page on your TpT profile.
Select 'Provide Feedback'.
Leave an honest rating with a short comment for this product.
That's it! have fun spending your TpT credit :)
_______________________________
Click here to Follow my TpT store and catch new products at a reduced price for the first 48H.
Report this resource to TPT