Friendship Lesson, Valentine's Day flipbook, Positive Relationships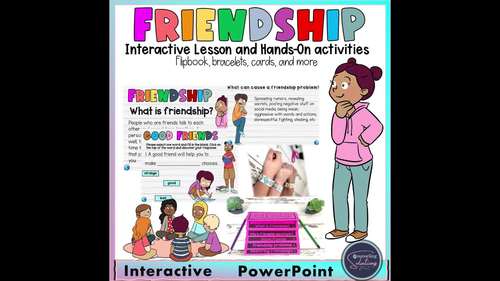 ;
What educators are saying
The kids loved the bracelets and used them as acts of kindness throughout the school. It was a nice addition to our February friendship lesson and could be used any other time as well!
Description
This is an interactive SEL Friendship Lesson with a PowerPoint Presentation. About Positive Relationships bracelets, valentine's day cards, and hands-on activities to empower students with positive friendship skills and empower them to have positive friends. The friendship activity packet can be used in a classroom with friendship lessons, small group counseling sessions, or Valentine's Day.
Our scholars often come to us with friendship problems. In this lesson, the students can engage in an interactive presentation, reflect, talk, and roleplay a friend.
A hands-on activity will promote friendship, cooperation, problem-solving, and relationship skills. Also, what is friendship, and what can cause a friendship problem? What do we do if a person unfriends us? They also practice what to do when a situation escalates and more. 
The product includes:
Zip file- Interactive PowerPoint Presentation (Read-only) and a PDF for the Flipbook, bracelets, cards
Short Scenarios to increase participation, reflection, and dialog
Roleplay
Friendship: What is friendship?
What does BFF mean?
The Characteristics of a good friend- fill out the blanks.
Classify Positive and Negative Relationship Skills
A possible reason for what can cause a friendship problem.
Are you having friendship problems?
What do we do if a person unfriends us?
Activity- Friendship pop-it cards
Why is friendship important?
Hands-on activities
Pop it Bracelets
Friendship Cards
***This product is for personal use, not for Commercial use
_________________________________________________________________
Other products you may like
Looking for Freebies
Teaching Duration
45 minutes
Report this resource to TPT