Friendship Quiz Show Healthy Relationships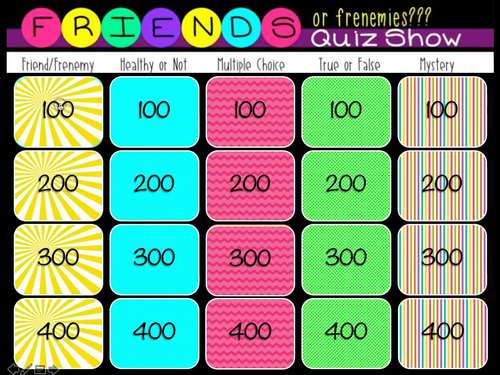 ;
What educators are saying
This was a great way to wrap up our social emotional lessons on friendships. Very engaging! Thank you!
Hello, My students enjoyed playing this game after we talked about what friendship is and how to be better friends.
Also included in
This bundle includes everything a girl needs to feel empowered and confident to face the critical, formative years. Although every girl would benefit from these products, it will also be helpful for girls who need help with self esteem, social skills, behavior management, anorexia, cutting, suicidal

Price $29.50

Original Price $39.00

Save $9.50

Teaching and practicing friendship skills can make a huge impact on classroom behavior management. This bundle includes friendship group counseling games, crafts, lessons, and presentations to help your students maintain healthy friendships and boundaries. You are saving an additional 20% by purch

Price $23.20

Original Price $29.00

Save $5.80

This bundle includes six of my best selling games for school counselors, social workers special education and classroom teachers. Help students with friendship skills, growth mindset, mindfulness, coping skills for emotions, and healthy hygiene habits. Students will enjoy playing these board games,

Price $24.00

Original Price $30.00

Save $6.00
Description
Fun friendship activities can be very effective classroom behavior management tools. This resource sparks deep discussions and builds a positive classroom climate to reduce drama. This game show is a fun way to teach friendship skills, making friends, and healthy peer relationships. Stop relational aggression before it affects the classroom. Students distinguish between a true friend and a frenemy (Unhealthy relationships) with an interactive game and companion worksheet.
Please note: This game is an interactive powerpoint slideshow. To play, choose "start slideshow" and start clicking! A printable scavenger hunt worksheet keeps all students engaged and on task throughout the game.
Five categories of questions
•Friend or Frenemy
•Healthy or Not
•Multiple Choice
•True/False
•Mystery
This game goes well with these lessons:
• Friend or Frenemy Activities
• Qualities of a Good Friend Flip'n Color Foldable
• Self Esteem / Self Respect Activities
• Friendship Activities Animated Fidget Flippers
• Friendship Activities Board Game
You might also like these
Social Emotional Learning Brochure Bundles
You might love:
❤️Click here to follow my store for notifications of half-off pricing for new products.
Let's connect!
@thecounselingteacherbrandy on Instagram
Stay organized with these:
Report this resource to TPT