From Cells to Tissues Interactive eLesson / Distance Learning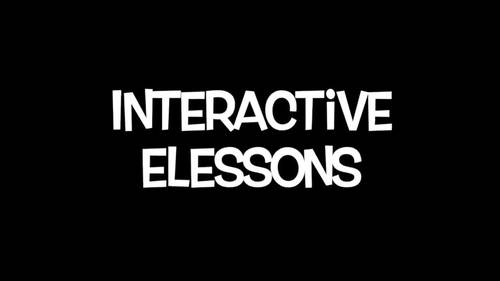 ;
What educators are saying
I really liked this a lot. Would love more activities like this for anatomy that is not catered to just google classroom. Kids really liked it.
Description
Empower your students to direct their own learning with this complete, interactive eLearning lesson on the structure and function of Human Tissues. The new Responsive design allows students to view the content on any device from desktop or notebook computers to tablets and mobile phones! The lesson includes reading passages combined with engaging video, images, and diagrams to help visual learners. Best of all are the frequent and engaging Interactive Learning Checks that provide students with immediate feedback as to whether they are understanding the concepts. But that's not all … hands-on projects and lab activities along with an infographic activity provide the perfect blend of technology with traditional learning. To top it all off, the lesson concludes with a randomly generated, interactive assessment that is automatically scored to provide students and teachers with immediate feedback!
This INSTANT lesson is ready for your students in seconds; simply give them the link and password provided upon purchase so they can get started immediately. Then you can relax because you just bought yourself some time to set up the hands-on labs and activities and to print out the infographic pages.
See for yourself …try a quick online demo</a> (on whatever device you happen to be using).
Concepts:
Types of Cells and Tissues
Identifying different tissues from microscope slides
Epithelial Tissue (simple squamous, simple cuboidal, etc)
Connective Tissue
Loose Connective (areolar, adipose, reticular)
Dense Connective (regular, irregular, elastic)
Supportive Connective (hyaline cartilage, fibrocartilage, elastic cartilage, compact
bone, spongy bone)
Fluid Connective (blood, lymph)
Muscle Tissue (skeletal, cardiac, smooth)
Nervous Tissue (motor neurons, sensory neurons, interneurons)
... and more
Activities:
From Cells to Tissues INFOGRAPHIC
Examining Skeletal Muscle Lab
Virtual Histology Lab
Standards (NGSS):
MS-LS1-1 Conduct an investigation to provide evidence that living things are made of cells; either one cell or many different numbers and types of cells.
MS-LS1-2 Develop and use a model to describe the function of a cell as a whole and ways parts of cells contribute to the function.
MS-LS1-3 Use argument supported by evidence for how the body is a system of interacting subsystems composed of groups of cells
MS-LS1-8 Gather and synthesize information that sensory receptors respond to stimuli by sending messages to the brain for immediate behavior or storage as memories
All Interactive eLessons are menu driven lessons that allow students to visit and revisit any part of the lesson as needed. The main menu keeps track of which topics students have visited and completed. Students have full control to revisit any part of the lesson including the final assessment. Each lesson uses the following format:
INTRODUCTION - Provides an overview of the concepts in the lesson.
TAKING A CLOSER LOOK - This is where most of the lesson's content is found.
EXPLORE - Here students will find hands-on labs or other activities that directly relate to the concepts in the lesson. Lab sheets can be downloaded for printing from within the lesson!
INVESTIGATE - Students assemble infographic pages to complete using the lesson as a resource. The completed infographic serves as a graphic representation of what was learned and can make a great addition to students' interactive notebooks.
ELABORATE - Students expand their understanding of a key concept of the lesson. This topic focuses on further research, hands-on projects and / or lab activities. All handouts and directions can be dowloaded from within the lesson!
COMMUNICATE - Communicating ideas and Collaboration are critical skills for students to develop. This topic provides students with options for choosing the method they will use to communicate what they have learned.
CHECK YOUR LEARNING - After completing the lesson and activities, it's time for a quiz! The lesson includes a randomly generated, 8 question assessment that is automatically scored to provide immediate feedback.
Your purchase includes all handouts; lab and activity sheets, instructions, infographic pages, and answer keys. You will also receive the complete HTML5 lesson packaged for uploading to your LMS (Blackboard, Moodle, Schoology, etc.) or secure website if you choose to do so.
Read more about Interactive eLearning lessons at www.gonyoscience.com
Follow my store to be the first to access the newest lessons and to receive product updates!
Report this resource to TPT
Standards
to see state-specific standards (only available in the US).
Determine the central ideas or conclusions of a text; provide an accurate summary of the text distinct from prior knowledge or opinions.
Follow precisely a multistep procedure when carrying out experiments, taking measurements, or performing technical tasks.
Integrate quantitative or technical information expressed in words in a text with a version of that information expressed visually (e.g., in a flowchart, diagram, model, graph, or table).
Distinguish among facts, reasoned judgment based on research findings, and speculation in a text.
Compare and contrast the information gained from experiments, simulations, video, or multimedia sources with that gained from reading a text on the same topic.