Frosty the Snowman Video Guide in Spanish - Frosty El Muneco de Nieve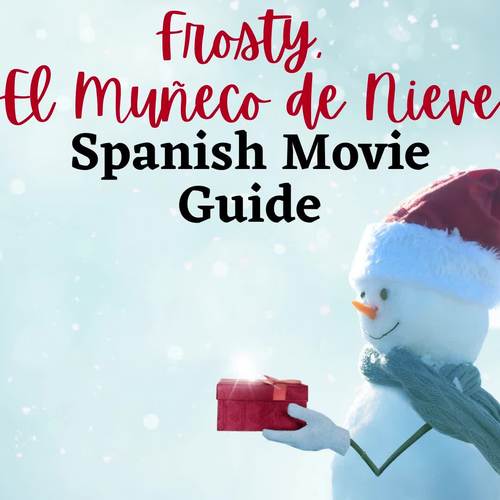 ;
Description
This 39 page best seller video packet in Spanish has the perfect activities to do during the holidays. Frosty the Snowman (Frosty, El Muñeco de Nieve) is a funny, heartwarming video to show in class to improve students' listening comprehension! Frosty is great for all levels and the movie has Spanish or English audio with subtitles if needed.
This best seller Frosty packet includes comprehension questions, the popular Frosty song in Spanish with video links, quizzes for all levels in English or Spanish, vocabulary lists, a Frosty guided discussion sheet, coloring pages, Who Am I listening activity, and more!
Frosty link for songs and resources:
This packet includes:
EL VOCABULARIO
*Movie Vocabulary in Spanish and in English, Spanish Only, and English Only
(Goes in the same order as the movie)
*Frosty the Snowman Label and Color by Number
LOS CRUCIGRAMAS
*Three Crossword Puzzles that correspond to each page of the vocabulary
(From the Spanish and English version)
*Keys For All Crossword Puzzles
LAS ACTIVIDADES DE COMPRENSION
*Comprehension Questions that follow the sequence of the movie
(Present Tense and Past Tense versions are both included) with Answer Key (in the Present and the Past Tense)
*True/False Quizzes (Basic, Intermediate, Advanced and English) with Answer Key
LAS ACTIVIDADES ESCRITAS
*Summary of the Movie Writing Activity in Spanish
*New Ending Writing Activity in Spanish
*Blank Fill-In Movie Information Sheet in Spanish
*Movie opinion fill-in sheet
LAS ACTIVIDADES DE ESCUCHAR
*Which Movie Character Is Being Described? Listening Comprehension Activity in Spanish
LAS ACTIVIDADES DE HABLAR
*The song "Frosty the Snowman" in Spanish
Teachers Like You Are Saying:
⭐⭐⭐⭐⭐ Well put together. Such a fun winter activity with the kiddos.
⭐⭐⭐⭐⭐ Great resource! Adorable! I used this during my interactive activities at exam time with my Spanish 2 students! They loved it! I have used a similar activity with Spanish 3 too! What a great resource! I didn't have to do a thing, it was so helpful and the it was by far the kids favorite activity at school during the holiday time!
⭐⭐⭐⭐⭐ Great no-prep activities for the end of the semester! Highly satisfied. Love all of your resources!
If you enjoy this video packet, please check out our Rudolph the Red-Nosed Reindeer and the Elf packets too! There are also many games, Power Points, and activities for teaching Christmas, Las Posadas, El Día de los Reyes Magos, El Día de los Inocentes, and other holidays in our Spark Enthusiasm Spanish store.
Visit our Spanish-speaking countries, holidays, and culture section on our website! –
Los Días Festivos
Spark Enthusiasm Spanish and Hispanic Culture and Holidays!
ALL of our movie packets with tons of resources are here!
ALL sparkenthusiasm movie guides
Let's connect! We would love to hear from you!
Have a great school year!
Report this resource to TPT