Fry Sight Word Curriculum - First, Second & Third 100 Lists - Reading Activities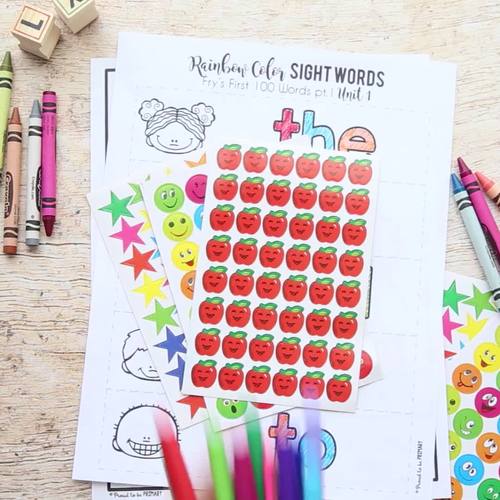 ;
What educators are saying
My students were excited and engaged with the included activities. I love your products because they are meaningful, and I can use them for my kiddos with learning disabilities.
Products in this Bundle (7)
showing 1-5 of 7 products
Description
This BUNDLE is jam-packed and includes 1200+ pages of sight word materials, activities, and worksheets to teach your students how to read and spell sight words from Fry's First 300 sight word lists. Inside, you'll find everything you need to teach Fry's 300 sight words, including sight word games, color by sight word activities, and more! It includes everything a teacher will need to teach a differentiated sight word program that is engaging and rigorous!
You'll love how easy it is to implement this sight word curriculum! Perfect for whole-class learning, morning work, small groups, individual station work, homework, or use them as fast finisher or morning work activities.
It includes everything you need to ensure mastery and provide quality sight word practice:
● Easy to implement lessons and activities
● Low-ink printables
● Teacher materials to make introducing, teaching, and reviewing words as a class simple
● 15 different activities to make differentiation easy
● Sight word cards
● Two FUN Assessment options
● Home study materials
Buy Fry's First 300 Sight Word Curriculum COMPLETE bundle for 45% off and SAVE $$$ off buying the packs separately! See the individual resources and PREVIEWS to see what is included.
This Fry's First 300 Sight Words Bundle will include:
6 separate sight word packs with 10 units each. That is a total of 60 WEEKS OF SIGHT WORD INSTRUCTION!
1200+ pages FULL of instructions, materials, activities, printables, assessments, and more!
What's Included:
Fry's Sight Words - First 100 Words pt. 1
Fry's Sight Words - First 100 Words pt. 2
Fry's Sight Words - First 200 Words pt. 1
Fry's Sight Words - First 200 Words pt. 2
Fry's Sight Words - First 300 Words pt. 1
Fry's Sight Words - First 300 Words pt. 2
Teachers will create and have SIGHT WORD SUCCESS with all that is included in Fry's First 300 Sight Word Curriculum!. Many of the activities and printables will increase with difficulty as we move through each set of words.
Build sight word fluency with these FUN and ENGAGING activities:
✅ Sight Word Lists - A list that has all 10 units listed. Great also to send home to parents so they may keep track at home!
✅Home Practice Lists - Sheets with words to send home each week for home practice. Also great to give to students in class to copy in their word books.
✅Sight Word Cards - Sight word cards to print, post, and practice during the week and then add to your word wall at the end of the week for read the room activities.
✅Rainbow Word Cards - Weekly sight word cards for students to cut, color and read 3 times for practice. They keep their words together and review often to build fluency.
✅Printing Practice - Printing practice sheets for practicing printing skills, building fine motor abilities and proper letter formation. Students practice each word four or more times, copy a sentence and draw a picture to match the sentence.
✅Find & Highlight - Students use a highlighter pen to read each sentence and look for the words in their word list. When they find a word, they can go over it with a highlighter. Then draw a picture of one of the sentences.
✅Play Dough Mats - Students can practice forming the words with Play-Doh and can use the marker to print the word on the line below.
✅Fix It & Fill Ins - Students use the word list at the bottom of the page as a guide to help them figure out which words go in each spot in each sentence they read. They fix the mistakes in the sentences at the bottom and rewrite them correctly.
✅Letterboxes - Fill the letterboxes with the correct fitting words from the word list. There is also a sentence to read and fill in with the correct words. Great for building and understanding of letter formation.
✅Find & Color - Use a magnifying glass to locate sight words in the picture. Students must read the words and color them correctly according to the key provided.
✅Sight Word Bracelets - Students trace and color each sight word. Then attach the bracelet on their wrist and practice reading their words to a partner or teacher.
✅Read & Trace Mini Books - Students can read each page and trace the sight words on the dotted lines. They create their own mini story books with their sight words.
✅Read, Draw & Color - Students read the sentences, color the sight words and draw a picture to match the sentences.
✅Word Work - Students trace the word first, then stamp it, then write it in fancy letters of their choice.
✅Sticker Book - At the end of a unit, have each student read their words to you from their book. They can put stickers next to the stars.
✅ABC Order Mini Book - Students use the word list given to practice putting the words into ABC order.
✅Word Search - Students find each word 2-6 times and must keep a tally at the bottom of the page each time they find a word.
✅Sentence Scrambles - Students cut the sentence, read the pieces, and try to unscramble the words to make a sentence that makes sense. They glue the pieces in the correct order in the space provided, re-write the correct sentence and draw a picture to match!
✅Spelling Books - Print off a spelling booklet for each student and use for spelling quizzes at the end of a unit or as a spot for students to practice printing their words.
Look at the PREVIEW for an up-close look at this Fry sight word program, a breakdown of what it includes, and how it can be used.
How to use?
Start by assessing your students to see which words they can read and what word list to start them on.
The curriculum is split into 60 units covering 5 words in each unit. I suggest teaching and completing 1 unit each week, starting where a child is at in sight word recognition.
With all the activities and materials provided, this sight word curriculum is simple to DIFFERENTIATE and guarantees sight word mastery and enjoyment by children!
Read a blog post HERE about how I teach and run my sight word program and use similar activities to ensure sight word success!
Teachers love the sight word success they get with everything included in Fry's Sight Word Curriculum!
⭐️⭐️⭐️⭐️⭐️ "Hoy guacamole, Batman! What an amazing resource! I cannot say enough good about this product. I had downloaded unit 1 from somewhere a long time ago, and decided that I needed to have the full 300 word bundle. I am NOT disappointed! I teach first grade, and many of these will be perfect as homework pages each week because they are simple to do without a lot of help. I will use other pages as center work because they will have adult help as needed, but again they are simple enough to do independently. I love, love, love this bundle!"
⭐️⭐️⭐️⭐️⭐️ "This product has helped my 1st graders fill in the gaps from their Kindergarten year! They are already making noticeable progress after only a month! I use most of the activities both as homework and classwork. Parents also love the little books that get sent home each week because they also struggle finding books that won't be too frustrating to their child. I also love that activities allow students to draw and color. Thanks for the wonderful product! :)"
⭐️⭐️⭐️⭐️⭐️ "This LITERALLY saved my life! I had been choosing random sight words for the week and this has simplified it and gave me a sight word station. Such a great resource."
You might also be interested in:
Word Families Short Vowels Activities
Stay connected with Proud to be Primary
♥Click HERE to follow our store and receive notifications of new product releases, sales, and freebies.
♥Join our email listand get weekly teacher tip emails and access to our FREE resource library.
♥Visit our website at Proud to be Primary for tons of engaging ideas for teaching kids in the classroom!
♥Join our Facebook group and connect with thousands PROUD primary teachers like yourself.
Questions, suggestions, and feedback are always welcome.
Just use the "Product Q&A" tab and I will get back to you as fast as I can!
Please ask all questions before purchasing or email me at elyse@proudtobeprimary.com.
Terms of Use: This product is licensed for personal classroom use ONLY unless multiple licenses are purchased. Your purchase grants you a license to use in a secure, password-protected online platform (such as Google Classroom) with your students only. You may not transfer or share with another teacher or use for commercial purposes (Outschool, etc.).
© 2013 to Present - Elyse Rycroft, Proud to be Primary
Report this resource to TPT
Standards
to see state-specific standards (only available in the US).
Know and apply grade-level phonics and word analysis skills in decoding words.
Read common high-frequency words by sight (e.g., the, of, to, you, she, my, is, are, do, does).
Know and apply grade-level phonics and word analysis skills in decoding words.
Recognize and read grade-appropriate irregularly spelled words.
Read grade-appropriate irregularly spelled words.