Fugleflicks Interactive eBook: Engaging Educational Movies by Kids for Kids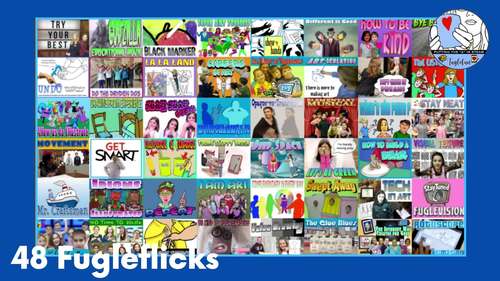 ;
Easel Activity Included
This resource includes a ready-to-use interactive activity students can complete on any device. 
Easel by TPT is free to use!
Learn more
.
Description
This Fugleflick interactive eBook is an exhaustive collection of 48 student-created, art-related award-winning super clever videos that will engage and entertain any student. They were made by kids for kids, oozing with creativity and child-centered educational content from classroom management issues to kindness to basic art concepts to simple encouragement to try your best.
This book also contains movie trivia, how to's, behind the scenes movies and photos, articles, and exclusive content that will inspire and inform the viewers.
The 114-page web-based ebook takes students directly to their favorite movie embedded on the page. I also included a QR code for each movie to give you more options for how to use this book with students.
Early Finisher Station on a Tablet: This book can be pulled up on a tablet using a web browser with the QR code (page 3). Save icon on the tablet with the "save to home screen" option. Students can click through and watch the movies embedded on the pages. I recommend headphones.
Host an all-class Film Festival: Project the web-based eBook on your screen and show one movie at a time. Reflect on the learning objectives, creative choices, and storytelling techniques.
Daily Dose of Creativity: use this eBook to sprinkle creativity into your daily routine. Explore one movie a day as a joyful brain break
Seesaw Lesson and Reflection: I included a Seesaw lesson (page 113) and the reflection activity page for you to customize. You can assign my 10-page seesaw activity, or link to the entire eBook and attach the reflection page where students can respond with their voice and art to their favorite Fugleflick.
Remote Learning: this is a web-based eBook. All you need to do is post a link to share this amazing resource, hours of videos, with your students
Print and SCAN QR Codes*: I included a 51 page PDF of all 48 movie poster pages with QR codes that you can print. This gives you the opportunity to have a choice-based Fugleflick film festival. I like to lay the pages out on a long counter and invite students to scan the movie they want to see with our class set of iPads. HINT: put the pages in sheet protectors, and add them to a binder.
* The Print and scan option is a stand-alone offering foundat this link
Movie Titles:
Young Sloppy Brush (caring for paintbrushes)
Be Kind to Your Erasers (caring for erasers/art supplies)
Swept Away (cleaning up the art room)
Let's Be Green (cleaning without wasting resources)
The Glue Blues (avoiding sticky messes with glue bottles)
Elementary Musical (musical about the elements of art)
Complementary in Every Way (Love story between red and green)
I AM ART (into to 8 forms of art: landscape, still life, sculpture, etc)
Show of Hands (importance of visual literacy)
Different is Good (surreal look at embracing diversity via art)
Value Drawing (lyrics to this music video explain Value Drawing)
The Internet Was Created For Good (digital citizenship in art class)
ART-iculation (advocacy message for art education)
All I Want is Technology (integrating technology in art)
Deep Space (creating the illusion of depth on a picture plane)
Opaque-vs-Transparent (introduction to opaque and transparent)
Monochromatic (Lyric of this music video explains the meaning)
Repeat (lines, shapes, and colors can repeat to make patterns)
Allow us to Illustrate (the importance and uses of illustrations-winner of Video of the Year by NextVista.org)
Careers in Art (an all-boy cast explores art jobs-Winner of Video of the Year by Nextvista.org)
Black Marker (extremely cheesy video that students love about how black marker can cover up the messes made by villain sloppy brush)
Idioms Illustrated (student explain and illustrate idioms)
Godzilla Educational Video (Finding art concepts in a Godzilla film)
Drawing From Experience (Grandpa pencil explains contour line drawing to baby pencil)
Blah Blah Oops (Talking instead of focusing on your art-making)
White Spot Inspector (He/She helps you find all the spots you missed in your artwork)
La La Land (drawing beyond the edge of your paper)
Super Art Students (What you learn in art is almost superhuman)
Movement (how to show movement on a picture plane)
Don't Crush My Dreams (keeping the art nice in hallway displays)
Try Your Best (changing to a growth mindset in the art room)
Do the Dryden Dos (making good choices in the school building)
Undo (avoiding common mistakes in the art room)
No Time to Waste (environmental video with an art theme-winner of One Earth international film festival)
Get Smart (creative video based on the many uses of an interactive whiteboard)
The Listen Plea (a teacher's plea for kids to use their whole body to listen)
The Pencil Exchange (quick classroom management plan for broken pencils)
What's the Point? (defines pointillism and introduces George Seurat's artwork)
Stay Neat! (our painting neatly chant made by 2nd graders)
Rotoscope Animation (our STEMie Award entry that won our art room $5k)
Our Online Art Gallery (our Artsonia Commercial-great for explaining quickly what this online art gallery is all about for your school community)
How to Build a Bear (students explain how to make a pinch pot clay bear in this punny award-winning video)
Mr. Craftsman (craftsmanship tips from Mr. Craftsman who keeps a tidy ship)
Bye Bye Road (learn about perspective with the lyrics-sing along with the karaoke page)
Tech in Art (showcases over 24 ways we incorporate technology in art class)
Fuglevision (No matter how we gather, each one of you matter-our remote learning mantra)
How to Be Kind (kindergarteners share specific and practical ideas for being kind)
Visual Texture (1st-grade students dance to their visual texture song while sharing their Wild Things filled with examples of this technique)
Report this resource to TPT
Standards
to see state-specific standards (only available in the US).
Recount stories, including fables, folktales, and myths from diverse cultures; determine the central message, lesson, or moral and explain how it is conveyed through key details in the text.
Ask questions to check understanding of information presented, stay on topic, and link their comments to the remarks of others.