Full Video Course For Using Google In Your Classroom (35 Videos)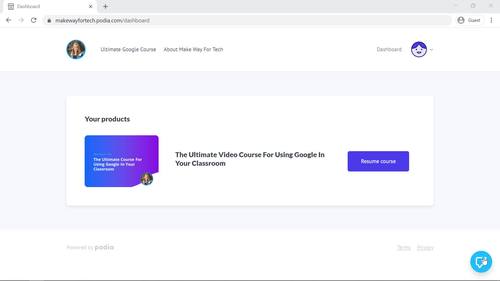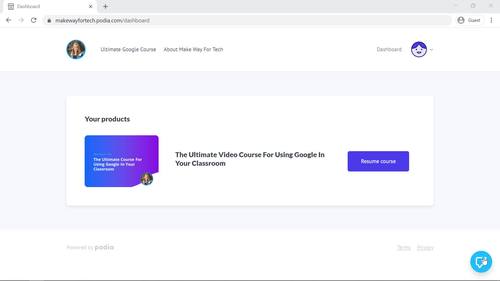 Created By
Make Way For Tech
Format
Zip
 (
8 MB
|
35 Videos + Video Checklist
)
 Digital Resource for Students
The Teacher-Author has indicated that this resource is made for device-based learning.
Products in this Bundle (35)
showing 1-5 of 35 products
Terms Of Use & Video Course Checklist
Bundle Description
Have you been wanting to use Google accounts in your classroom, but you're not sure where to begin? You want to create Google activities for your students, but you haven't gotten any training? Look no further! This complete STEP-BY-STEP video course will teach you everything you need to know about using Google accounts in your classroom.
➡️NOTE: ⬅️
You'll get instant access to more than 35 easy-to-follow videos that I created specifically for beginners. Check out the FREE videos below to see a sample of the quality videos you'll be receiving.
In this course, you'll learn step-by-step how to:
Create meaningful activities in Google Slides, Google Docs, and Google Drawings that are centered around your curriculum and enhance your current instruction
Create a Google Classroom to assign, view, and grade student activities as well as give feedback
Have your students collaborate in their Google Drive to learn from each other, facilitate discussions, and create in-person connections
Use Google Forms so you can easily create exit tickets, assessments, and activities for substitutes that are self-grading
Create collaborative folders with the teachers you work closely with to collect, create, and share activities and materials without having to be in the same room or make paper copies
Use your Google Drive to communicate and share student work more efficiently with parents
Throughout these videos, you'll get 70+ different ideas for how you can use Google Apps with your students.
01: Log Into Your Google Drive (WATCH FREE)
02: Upload Files From Your Computer Into Your Drive
03: Organize Your Drive With Folders
04: Share Your Files With Other Teachers
05: Share And Collaborate In A Folder With Other Teachers
06: Search Your Drive To Quickly Find Files
07: What Is Google Docs And How To Use It In Your Classroom
08: What Is Google Drawings And How To Use It In Your Classroom
09: What Is Google Slides And How To Use It In Your Classroom
10: Set Up A Student Activity In Docs, Slides, Or Drawings
11: Use The Features In The Toolbar To Design Student Activities
12: Insert Photos To Make Activities More Meaningful
13: Lock Down Images, Shapes, And Text So Students Can't Move Them
14: Create Text Boxes for Student Responses
15: Create Draggable Words To Sort, Label, And Fill In Blanks
16: Insert Videos And Links To Provide Students With More Content
17: Google Classroom: The Best Way To Share And Turn In Student Assignments
18: Set Up Your Google Classroom
19: Assign Your Student Activities And Differentiate In Google Classroom (FREE)
20: Create Topics On Your Classwork Page To Easily Find Assignments
21: View And Grade Your Students' Completed Work And Give Feedback
22: More Features In Google Classroom
23: Why Your Students Should Collaborate In Their Drive (WATCH FREE)
24: Create A Collaborative Class Activity For Your Students To Work On At Once
25: How Students Can Start Their Own Activity And Stay Accountable
26: Use The Comment Feature With Students To Provide Instant Feedback
27: Share Collaborative Activities With Parents, Teachers, And Your Principal
28: What Is Google Forms And How To Use It In Your Classroom
29: Customize The Settings On Your Google Form
30: Add Questions And Sections To Your Google Form
31: How To Make A Graded Quiz In Google Forms
32: Assign A Google Form To Students In Google Classroom
33: How To View Your Students' Responses From A Google Form
34: How To Grade A Google Form And Return It To Students
35: Create A Google Form For Parents
You can either watch the videos from start to finish or pick and choose which ones are most important to you. Purchasing this bundle will allow you to watch each video at your own convenience and as often as you like.
You'll be surprised at how quickly your skills and confidence will grow! If you have any questions, please send me a message.
-Kathryn
Google Certified Educator Level 2
Total Pages
35 Videos + Video Checklist
Report this Resource to TpT