Fun Classroom Citizenship Debates: Learning / Life Skills For 2023 (6Cs)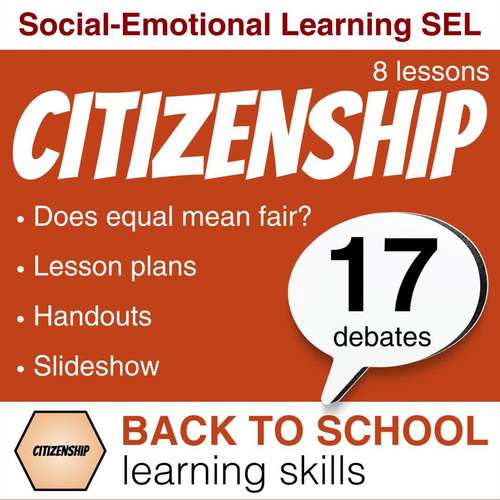 ;
79 slides, 20 pages of handouts, 52 pages of lesson plans
Includes Google Apps™
This bundle contains one or more resources with Google apps (e.g. docs, slides, etc.).
Easel Activities Included
Some resources in this bundle include ready-to-use interactive activities that students can complete on any device. 
Easel by TPT is free to use!
Learn more
.
Products in this Bundle (4)
Bonus
START HERE - 6Cs Citizenship
Also included in
This bundle includes every resource in my TPT store. ⭐ GET EVERYTHING so you don't have to worry about missing out! If you agree with this video at 2:09and you agree with my ideas about EFFORT at 15:52then you will love my stuff⭐ 38 teachers have INVESTED in this bundle so far! As I add resources,

Price $164.25

Original Price $328.50

Save $164.25
Description
17 high-interest CLASSROOM DEBATES!
PERFECT to kick-start a unit on Persuasive Writing, Communication Skills, or Being an Active Citizen!
The slideshow teaches everything. You just guide the class conversation!
Want to see exactly what you get before you buy this bundle?
Want to see what the handouts and lesson plans look like?
Use this life-long tool over and over again!
REBOOT your class and make it to the END OF THE SCHOOL YEAR!
Now is a great time to remind your students HOW TO DISAGREE respectfully.
Teach important lessons if you ever need to fill a period.
These debates are also a great way to kick off a Global Studies unit or English Language Arts unit on essay or persuasive writing!
Leave the detailed lesson plan for your substitute teacher to teach.
FAIR is not always EQUAL!?
Explore being an active citizen at school and in the world!
Help students COMMUNICATE and APPRECIATE differences in opinion.
SOCIAL-EMOTIONAL LEARNING (SEL):
Using these timeless citizenship debates is a perfect way to get students to think more about SEL:
who they are (Self-Awareness)
diversity and equity (Social Awareness)
communicating effectively (Relationship Skills)
⭐ The best time to plant a tree was 25 years ago. The second best time is now.
⭐ DISCUSS the difference between equal and fair.
⭐ BUILD classroom community as students explore the difference between a citizen and a good citizen (or active citizen) 
⭐ REMIND students how to communicate respectfully, even when they disagree.
⭐ EMPOWER students to reflect on their ideas and to think about how equal doesn't always mean fair.
⭐ APPLY what they learn by asking students which groups of people are invisible?
⭐⭐⭐⭐⭐ TEACHER FEEDBACK ⭐⭐⭐⭐⭐
"My students love debating, so this resource was great!"
(⭐⭐⭐⭐⭐ Extremely satisfied - Jennifer C)
"Very thorough and has built a community in my classes. Thank you"
(⭐⭐⭐⭐⭐ Extremely satisfied - Mary S)
"This is an exceptional high quality resource that is worth more than it is, once I opened this product I was so impressed with the professionalism and dedication that was put into creating a high quality informational unit that is based on reliable sources throughout the entire package! I am very pleased with this purchase as my scholars are too, for they are the ones that receive this credible, reliable, and highly beneficial learning information that gracefully supports students through the learning process with rigorous content, that allows deeper learning opportunities for those that need that deeper level concepts for true engagement into their learning experiences! Highly recommend this phenomenal resource."
(⭐⭐⭐⭐⭐ Extremely satisfied - Deanna S)
"This resource has been a real lifesaver to both my lessons and teacher training. Many skills are covered in this resource and I use it at any stage in my curriculum as lead-in for new topics, to end of units or to reinforce and supplement certain areas. We move from a local to global perspective, and this resource guides you through the entire process. I eventually got the entire bundle, and it is an added value to my teaching resources. Thank you for an excellent product."
(⭐⭐⭐⭐⭐ Extremely satisfied - Josephine M)
These high-interest citizenship debates are a safe but powerful way to teach students that
We can have opinions.
My opinions can be different from yours.
Your opinions can be different from mine.
And both of our opinions can be equally valid.
The 17 debate questions go through a series of "fun" questions to more "serious" questions as they get students wondering about fairness and equality.
✅ The slideshow lesson teaches the concepts.
✅ You can also EDIT THE FILES to fit your classroom needs.
✅ The slideshow lesson is comprehensive and teaches the lesson:
DISTANCE LEARNING or 1:1 LEARNING in Google Classroom
FACE to FACE LEARNING in your classroom
..... ⭐ THU May 11, 2023 - Oops, you just missed a sale!
Should ChatGPT be allowed in schools? (or is this cheating?)
ARE YOU (or your students) BURNING OUT?
What do your students struggle with the most?
(PS - These are lifelong resources that you can use year after year.)
✅ Option 1: Trying (when they've given up)
✅ Option 2: Standing up for others (when things aren't fair)
✅ Option 3: Working in groups (not the same as teamwork)
✅ Option 4: Getting their point across (when upset and things matter)
✅ Option 5: Coming up with ideas (instead of copying others)
✅ Option 6: Thinking logically (and making informed decisions)
✅ Option 7: ALL OF THE ABOVE 
My name is Michael Fuchigami. I'm the teacher behind Educircles. 
I taught English Language Arts for 13+ years in middle school.
I want to help you SAVE HOURS of PREP because bathroom breaks are important!
⭐⭐⭐ Teachers around the world have DOWNLOADED 87,506 Educircles resources in over 42 countries!
THANK YOU to everyone who has purchased an Educircles product.
I donate 10% of everything I earn to STUDENT MENTAL HEALTH organizations. It's a promise I made to get through some dark times.
✅ SAVE HOURS OF PREP (and money) with a bundle!
⭐ This is the TED talk that I will give one day. If you like this, then you will love my resources.

SINGLE PDF update - v2022-07-10
The individual products in this bundle now have a Single PDF to print (with a File Table of Contents and all handouts)
I added a digital learning version (Easel by TpT)
I added Microsoft versions for all files
NO CHANGES to teaching content in section A.
Updated teaching content in section C. (Updated the Handout - Student Self-Evaluation; Removed Google Slides file - Venn Diagram (Google Classroom version) as it has been replaced by the Easel by TpT file.)
Other changes
Files are now packaged by section (A. Debate, B/C Video + Consolidation) instead of splitting Google Drive folders by use (i.e. Print and Teach, Edit the documents, Google Classroom)
Simplified file names using descriptive words (handout, slideshow).
Minor changes to formatting / layout
Combined all handouts into a single PDF to print (for individual products)
If you have any questions, please ask in the Question section or email me at Mike@educircles.org
Total Pages
79 slides, 20 pages of handouts, 52 pages of lesson plans
Report this resource to TPT
Standards
to see state-specific standards (only available in the US).
Engage effectively in a range of collaborative discussions (one-on-one, in groups, and teacher-led) with diverse partners on grade 6 topics, texts, and issues, building on others' ideas and expressing their own clearly.
Follow rules for collegial discussions, set specific goals and deadlines, and define individual roles as needed.
Pose and respond to specific questions with elaboration and detail by making comments that contribute to the topic, text, or issue under discussion.
Engage effectively in a range of collaborative discussions (one-on-one, in groups, and teacher-led) with diverse partners on grade 7 topics, texts, and issues, building on others' ideas and expressing their own clearly.
Follow rules for collegial discussions, track progress toward specific goals and deadlines, and define individual roles as needed.