Functions and Linear Equations Quiz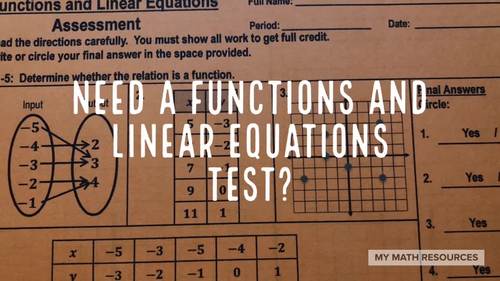 ;
Description
This resource contains a simple 15 question quiz covering functions and linear equations.
This product contains a two-sided assessment.
Don't waste your time making your own test...we took care of it for you!
Give yourself an easy day!
CONTENTS:
Student Worksheet: 15 questions (2 pages)
Answer Key: Answers for the 15 questions. (2 pages)
TOPICS BY QUESTION NUMBER:
Questions 1-5: Tell whether the relation is a function from a table, graph, or input output line diagram.
Questions 6-7: Identify the domain and range of the function.
Questions 8-9: Tell whether the ordered pair is a solution to the equation.
Questions 10-11: Determine whether the ordered pair is a solution to the equation.
Questions 12-13: Create a table of values. Then, graph the points on the coordinate plane.
Questions 14-15: Graph the equation. Then, determine whether the equation is a function.
Related Products:
Teaching Duration
40 minutes
Report this resource to TPT
Standards
to see state-specific standards (only available in the US).
Understand that a function is a rule that assigns to each input exactly one output. The graph of a function is the set of ordered pairs consisting of an input and the corresponding output.
Interpret the equation 𝘺 = 𝘮𝘹 + 𝘣 as defining a linear function, whose graph is a straight line; give examples of functions that are not linear. For example, the function 𝘈 = 𝑠² giving the area of a square as a function of its side length is not linear because its graph contains the points (1,1), (2,4) and (3,9), which are not on a straight line.
Construct a function to model a linear relationship between two quantities. Determine the rate of change and initial value of the function from a description of a relationship or from two (𝘹, 𝘺) values, including reading these from a table or from a graph. Interpret the rate of change and initial value of a linear function in terms of the situation it models, and in terms of its graph or a table of values.