Functions and Linear Equations Worksheet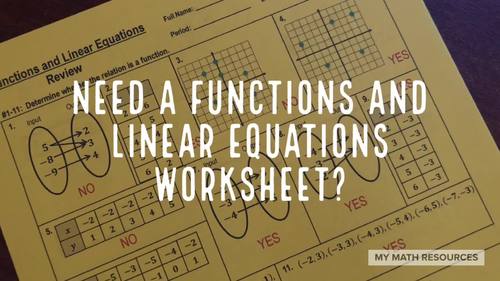 ;
Description
Are you covering Functions and Linear Equations in your 6th, 7th, or 8th grade math class?
Need a little break?
Utilize this 26 question worksheet to give yourself a little rest.
This product contains a two-sided worksheet.
Don't waste your time making your own worksheet...we took care of it for you!
Give yourself an easy day!
Student Worksheet: 26 questions (2 pages)
Answer Key: Answers for the 26 questions. (2 pages)
TOPICS BY QUESTION NUMBER:
Questions 1-11: Tell whether the relation is a function from a table, graph, or input output line diagram.
Questions 12-13: Identify the domain and range of the function.
Questions 14-16: Determine whether the ordered pair is a solution to the equation.
Questions 17-22: Write the equation in function form.
Questions 23-24: Create a table of values. Then, graph the points on the coordinate plane.
Questions 25-26: Graph the equation. Then, determine whether the equation is a function.
Teaching Duration
55 minutes
Report this resource to TPT