GEMS Poster - Order of Operations Poster - Math Classroom Decor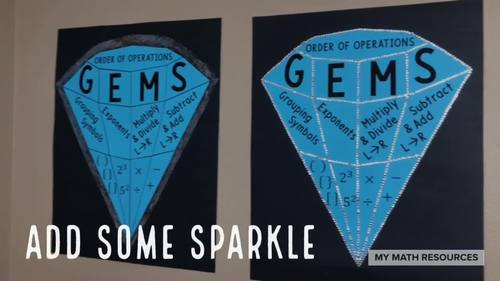 ;
What educators are saying
I've still got this hanging up on my wall. It is a great visual for students to remember the GEMS order of operations.
I have a student working quite a bit above grade level and this was a great resource to have him glue into his math notebook so he could work independently with a helpful reminder.
Also included in
Buy both Order of Operations GEMS Posters at the same time and your classroom will be shining like a gem!

Price $6.99

Original Price $9.98

Save $2.99

Decorate your entire math classroom with my complete bundle of bulletin board posters. They're better than any math posters you have ever seen! Most math classroom posters are hard to read from the desks. Your students can't even read them unless they're out of their seats and standing next to th

Price $107.97

Original Price $215.93

Save $107.96
Description
This printable order of operations poster in the shape of a gem is a fun and unique way to display the rules for the order of operations in your classroom!
This is a large poster! It's 20 inches wide and 23.5 inches long - the students will be able to see it from everywhere in the classroom!
The poster comes in two versions - one that fits on a single page, and another that takes up multiple pages. The one page option is perfect for students' binders and/or notebooks. There is also a blank gem graphic organizer that students can fill out.
The large option requires you to print out the pages, cut out the pieces, and assemble the poster. Then, glue the pieces on a poster board and display, or staple the pieces to your bulletin board or a wall. This poster makes a beautiful display for your classroom that you can use year after year.
To make this poster pop I printed it on colored card stock (blue is the perfect color for a diamond, don't ya think?) I mounted it on black poster board so I didn't need to cut out each piece completely perfectly.
If you really want to jazz up your poster I thought of a few different ways to make it shine like a gem. Check out the video preview to see what I did. For one poster I used sequins, for another I used shiny metallic poster board as an additional border, and for the other two I used glitter!
I make the best classroom decor! Check out some of my other posters:
Answer Key
Does not apply
Teaching Duration
Lifelong tool
Report this resource to TPT
Standards
to see state-specific standards (only available in the US).
Use parentheses, brackets, or braces in numerical expressions, and evaluate expressions with these symbols.
Write and evaluate numerical expressions involving whole-number exponents.