GRATITUDE Lessons, Activities and Worksheets - Grateful - Thankful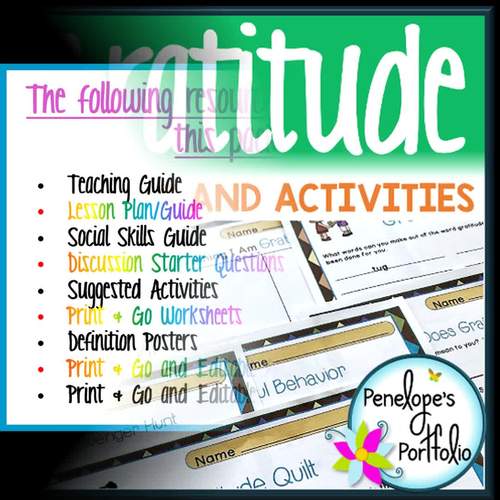 ;
What educators are saying
Looking forward to using this resource to support social emotional learning for my students this year.
My students loved working on these. It helped them use skills and strategies that they learned in class.
Also included in
This bundle has been recently updated!!! An UPDATED font/look, more activities, and updated editable awards and vouchers have been added to each packet. Please re-download this bundle to get the most recent version if you have already purchased it.Character education and social skills are very impor

Price $99.99

Original Price $165.00

Save $65.01

Encourage gratitude within the classroom and students with this Gratitude Bundle! It includes all of the gratitude and thankfulness social skills / character education activities within my store, and comes in color and black and white.INCLUDED RESOURCESGratitude Letter & ColoringGratitude Packet

Price $18.40

Original Price $26.30

Save $7.90
Description
Are you struggling to create a GRATEFUL atmosphere within your classroom? Are you wanting to explore the concept of gratitude with your students? If so, this packet is for you! It is filled with activities, lessons, worksheets, posters, awards, and vouchers that are easy to use and great for classroom management.
The path to happiness lies in how people treat one another. Let's create a world filled with GRATITUDE. ❤️ View similar packets here!
Click HERE to buy all GRATITUDE resources in one BUNDLE!
Click HERE to buy all CHARACTER EDUCATION PACKETS in one BUNDLE!
SUGGESTIONS FOR TEACHERS, SPECIALISTS, AND HOMESCHOOLING PARENTS
Focus on the character trait of gratitude by discussing this virtue and poster. To deepen the meaning of gratitude, focus on an activity, suggestion, book, and printable. Once an understanding of this trait has been achieved and demonstrated, present award(s). Visit my store to purchase similar virtue packets, awards, posters, and task cards.
INCLUDED VERSIONS
Color and Black & White Activities in PDF
Color and Black & White Awards, Posters and Vouchers in PDF
Editable Awards and Vouchers in PowerPoint (student's name, signature and date may be edited on awards, and student's name, reason voucher was given and privilege earned may edited on vouchers).
INCLUDED RESOURCES
Teaching Guide
Lesson Plan/Guide
Definitions and Social Skills Guide
Discussion Starter Questions
Activity #1 Gratitude Vs. Generosity
Gratitude ABC's Printable
Activity #2 Act It Out!
Activity #3 Helping the Community
Activity #4 Gratitude Poster
Activity #5 Gratitude Party
A Note of Gratitude Printable
Activity #6 Gratitude Quilt
Gratitude Quilt Printable
Something I am Grateful for... Printable
Grateful Behavior Printable
Gratitude Scavenger Hunt Printable
What Does Gratitude Mean? Printable
Gratitude Acrostic Poem Printable
Gratitude Words Printable
Gratitude Reading List
Gratitude Award
Gratitude Poster
Appreciation Award
Appreciation Poster
Generosity Award
Generosity Poster
Gratitude Vouchers
TOU and Credits
EDUCATORS LIKE YOU SAID:
⭐️⭐️⭐️⭐️⭐ This was a great addition to my positive incentive/rewards tub. Being able to acknowledge outstanding character always raises the level and frequency of seeing it in other students. Thank you for the cute designs in color and black and white. - Erica C.
⭐️⭐️⭐️⭐️⭐ Very satisfied! Love the wide range of activities as it makes it much more usable in the classroom!- Alexandra J.
GET TPT CREDIT
Go to your "My Purchases" page, and click the Provide Feedback button. Each time you provide feedback, TPT gives you credits that may be used towards the cost of your future purchases. Your feedback is greatly valued and helps me determine future products. Thank you!
WANT TO JOIN MY NEWSLETTER?
SUGGESTED GRADE LEVEL
I have suggested a grade level of K - 5 to include children on the spectrum and children in mainstream classes. Please preview the packet above when determining if it meets your needs and email me with any questions if desired.
EMAIL
I may be contacted at penelopesportfolio@outlook.com
SIMILAR RESOURCES
I Can Show Gratitude Mini Book
Report this resource to TPT