GROWTH MINDSET Mega Bundle: Learning / Life / Social Emotional Learning Skills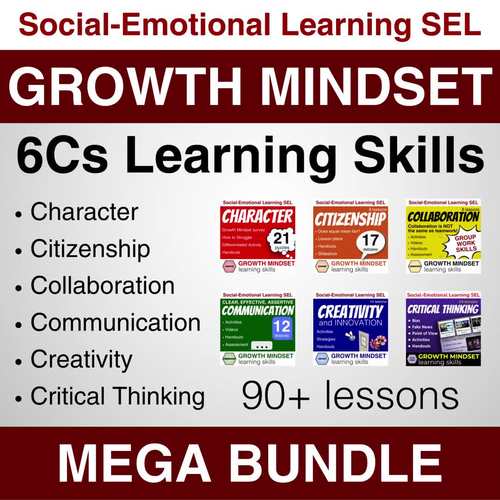 ;
90+ lessons, 1492 slides, 298 pages of handouts, 629 pages of lesson plans
Easel Activities Included
Some resources in this bundle include ready-to-use interactive activities that students can complete on any device. 
Easel by TPT is free to use!
Learn more
.
What educators are saying
An absolutely amazing resource. Very comprehensive, easy to use and generates a lot of discussion with students. Thank you
AMAZING resource! :) Couldn't find anything great for SEL that's not too cheesy for my gr 7s, but this was great.
Products in this Bundle (41)
showing 1-5 of 41 products
Bonus
6Cs START HERE - FILE Table of Contents
Also included in
This bundle includes every single resource in my TPT store. SAVE TIME and MONEY! ⭐ GET EVERYTHING so you don't have to worry about missing out! If you agree with what I say in this video at 2:09and you agree with my ideas about EFFORT at 15:52then you will love my stuff.⭐ 35 teachers have INVESTED

Price $159.75

Original Price $319.50

Save $159.75
Description
Social-Emotional Learning Curriculum that isn't babyish - over 90 LESSONS!
Fun, high-interest, transferrable learning skills you can use to LEVEL UP your class THROUGHOUT THE YEAR!
Empower students to deal with obstacles, systemic racism, global pandemics, and academic challenges!

Want to see what you get before you buy this bundle?
Look at the BUNDLE PREVIEW PDF.
(This preview PDF explains how to download this product and start teaching using the "BONUS" Zipped Folder.)
Want to see what the handouts and lesson plans look like?
⭐ Chapter 1: 6Cs Character
⭐ Chapter 2: 6Cs Citizenship
⭐ Chapter 3: 6Cs Collaboration
⭐ Chapter 4: 6Cs Communication
⭐ Chapter 5: 6Cs Creativity
⭐ Chapter 6: 6Cs Critical Thinking
This product is currently in a "zipped folder" format.
The Critical Thinking chapter ONLY includes PDFs, Google Docs and Google Slides file formats.
It does NOT include Microsoft Word / Powerpoint or Easel by TpT file formats, yet.
I am working on updating this product to my "single PDF format" like the other chapters in this mega bundle.
When the update is ready, I will upload the Microsoft and Easel by TpT versions.
⭐ Chapter 7: 6Cs Learning Skills Challenge Task
Use this LIFE-LONG teaching tool over and over again in different ways.
High-Interest FUN lessons that can be used ANY TIME!
There's a LOT OF CONTENT in here! Units can be taught together or separately. Pick and choose the activities you need RIGHT NOW.
EDIT the files to meet your classroom needs / teaching style.
The slideshow lesson teaches the concepts. You guide classroom conversations. The lesson plan includes discussion points.
Leave the DETAILED lesson plan script, teacher prompts, and possible student answers for SUBSTITUTE TEACHERS to use.
⭐ The best time to plant a tree was 25 years ago. The second best time is now.
Explicitly teach students:
be creative and innovative in problem-solving,
and think critically about school work, classroom community, and life challenges.
Develop the idea that success comes from hard work and learning from mistakes!
⭐ Use this during the year to DEAL WITH SPECIFIC ISSUES:
It takes a village to raise a child. We help raise good people empowered with strategies and skills to keep going when life gets hard.
These 21st Century Learning Skills / GLOBAL Competencies help your students in any subject, but also in everyday life, relationships, and career struggles.
Educators and business experts are telling us that our students need some key transferable skills in order to survive and thrive in the world today.
These 21st-century skills apply to every subject because they're transferable skills that go with any curriculum or situation. 
We need to raise students with these skills regardless of what subjects we teach because they need these skills in an ever-changing global economy. (Psst - we're in the 21st century now!)
✅ SAVE HOURS OF PREP WORK. These lessons are high-interest and visually appealing. It will hook your students!
This bundle includes the following published resources:
⛔ BUY NOW! THE PRICE OF THIS BUNDLE IS SLOWLY INCREASING...
When I first launched this product in August 2019, it was a growing bundle that cost $45.99
The price will increase once I finish adding Microsoft Powerpoint / Word files and Easel by TpT files for all of the 6Cs Chapters.
..... ⭐ Will your students fall for this APRIL FOOL'S JOKE?
Need something to reboot your class after MARCH BREAK / SPRING BREAK?
What do your students struggle with the most?
✅ Option 1: Actually trying (even though they've given up)
✅ Option 2: Standing up for others (when things aren't fair)
✅ Option 3: Working in groups (not the same as teamwork)
✅ Option 4: Communicating when upset (and things matter)
✅ Option 5: Coming up with ideas (instead of copying others)
✅ Option 6: Thinking logically (and making informed decisions)
✅ Option 7: ALL OF THE ABOVE 
My name is Michael Fuchigami. I'm the teacher behind Educircles. 
I taught English Language Arts for 13+ years in middle school.
I want to help you SAVE HOURS of PREP because bathroom breaks are important!
⭐⭐⭐ Teachers around the world have DOWNLOADED 85,798 Educircles resources!
THANK YOU to everyone who has purchased an Educircles product.
I donate 10% of everything I earn to STUDENT MENTAL HEALTH organizations. It's a promise I made to get through some dark times.
In January 2023, I donated $2,653.89 on behalf of the Educircles community.
✅ SAVE HOURS OF PREP (and money) with a bundle!
⭐ This is the TED talk that I will give one day. If you like this, then you will love my resources.

QUESTION: Are the number of products in this bundle changing?
Yes, but the teaching content remains the same.
On Tue July 12, 2022, there were 41 products in this bundle.
On Wed July 13, 2022, there are 40 products.
As I update my 6Cs chapters to include Easel by TpT, the number of products will change.
For example, earlier, the 6Cs Citizenship Chapter bundle included three "TpT Google Drive product type" resources:
On July 13, 2022, I updated the Citizenship bundle into my new Single PDF File download format, I only needed two "TpT Digital Download product type" resources:
The teaching content has not changed.
You still get all of the same files. (You actually get more because of the new Easel by TpT and Microsoft Word / Powerpoint files.)
However, instead of packaging the files into three Google Drive folders, you get the files in two PDFs.
NOTE: There are one-click links in the PDF to access the files as you need them, lesson by lesson.
If you have any questions, please ask in the Product Q&A section below or email me at Mike@educircles.org
Total Pages
90+ lessons, 1492 slides, 298 pages of handouts, 629 pages of lesson plans
Teaching Duration
Lifelong tool
Report this resource to TPT
Standards
to see state-specific standards (only available in the US).
Determine a central idea of a text and how it is conveyed through particular details; provide a summary of the text distinct from personal opinions or judgments.
Determine two or more central ideas in a text and analyze their development over the course of the text; provide an objective summary of the text.
Determine a central idea of a text and analyze its development over the course of the text, including its relationship to supporting ideas; provide an objective summary of the text.
Determine a central idea of a text and analyze its development over the course of the text, including how it emerges and is shaped and refined by specific details; provide an objective summary of the text.
Write informative/explanatory texts to examine a topic and convey ideas, concepts, and information through the selection, organization, and analysis of relevant content.