Geography Anchor Charts BUNDLE (World Geography Bundle), Geography Poster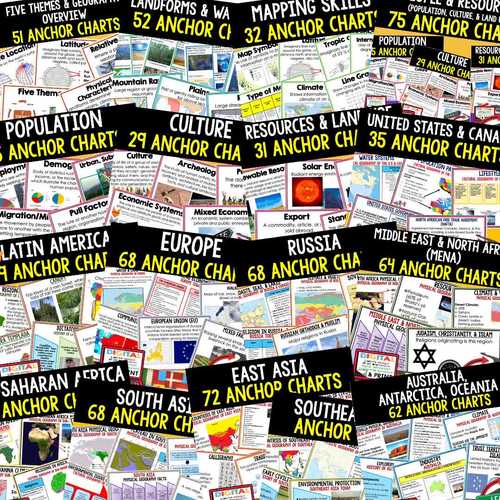 ;
Includes Google Apps™
This bundle contains one or more resources with Google apps (e.g. docs, slides, etc.).
Easel Activities Included
Some resources in this bundle include ready-to-use interactive activities that students can complete on any device. 
Easel by TPT is free to use!
Learn more
.
Products in this Bundle (17)
showing 1-5 of 17 products
Bonus
Digital Links for Google Classroom & Dropbox
Description
Geography Anchor Charts BUNDLE (Great as Bellringers, Word Walls, and Concept Boards), Geography Review Pages, Geography Posters and a Digital Activity for Google Classroom
This bundle will take your through the entire Geography curriculum. It will include all components of Geography. This is perfect for traveling around the world in style. THIS IS ALSO PART OF A WORLD GEOGRAPHY MEGA BUNDLE TO SAVE $$$ Anchor charts are great for representing the topics covered with bright and clear visuals. They make excellent classroom posters and word walls. There is also a digital link for Google Classroom for matching words/phrases and images. They can be printed 2 or 4 to a page and students could answer question by scavenging through them. They can be printed full page in color and laminated to make excellent classroom visuals. Most students are visual learners and benefit from multiple representations of topics. Anchor charts can be used as study guides or develop questions to review or introduce material.
-Anchor Charts
-Posters
-Digital Google Classroom Link
-Student Resource Pages
-Review Pages
The following units are included:
FOLLOW TO GET UPDATES WHEN NEW RESOURCES ARE ADDED
Links to all MEGA BUNDLES
Other Resources to Check Out:
CIVICS PAGE
US HISTORY PAGE
GENERAL RESOURCE PAGE
ELA & WRITING PAGE
PHYSICAL SCIENCE PAGE
PHYSICAL SCIENCE RESOURCE PAGE
EARTH SCIENCE PAGE
LIFE SCIENCE PAGE
WORLD HISTORY PAGE
GEOGRAPHY PAGE
LOUISIANA HISTORY PAGE
CLIPART RESOURCE PAGE
learnedlessonstpt@gmail.com
Thank you for your support! --Learned Lessons
Leaned Lessons Teaching Material
learnedlessonstpt@gmail.com
#TPTDIGITAL #TPTTECH Google, 1:1, Digital
Report this resource to TPT