Geometry and Fractions Math Centers SECOND GRADE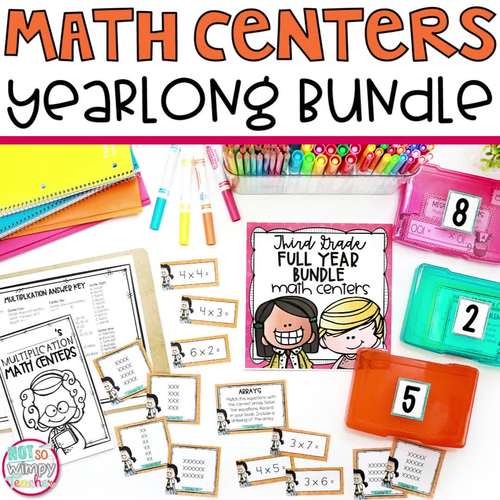 ;
What educators are saying
The task cards for the centers were able to be used by putting them on a google slide to share with students both for small group guided practice and independent work.
I loved this and the book for accountability. I wish you had something like this for 2nd grade reading!
Also included in
This 2nd grade bundle includes hands-on and engaging math centers for the entire year!!! You will be getting a total of 90 math centers!Each set of centers has the same format, so students will learn the expectations and procedures and then be able to complete centers for the entire year without man

Price $40.00

Original Price $49.50

Save $9.50
Description
This product includes 10 engaging math centers that cover second grade geometry skills. Some of these skills include basic fractions. Students have a recording book and rotate through 10 different centers. Centers include constructed response math journaling, task cards, and matching.
**Would you like to learn how I use these math centers? Click HERE to view a free video on how to implement math centers.**
All centers are included in color and black and white!
Topics included:
1. Math journaling
2. Drawing 2-D Figures
3. Making Shapes with Pattern Blocks
4. Naming the Fraction of a Whole
5. Making Rows and Columns
6. Attributes of Figures True/False Sort (2d and 3D)
7. Spin to Divide Shapes into Equal Shares
8. Missing Numbers (attributes of shapes)
9. Matching 2D and 3D Shapes with their Name
10. Adding Rows and Columns
These centers are perfect for an independent math center. My students work on them when I am meeting with guided math groups. Each center includes simple, student-friendly directions. This allows students to be more independent. Centers could also be used for morning work or fast finishers.
Teacher answer key is provided.
Please look at the preview for a sneak peek at some of the centers.
***************************
Available in this money saving bundle:
Math Center Bundle for Second Grade
More 2nd Grade Centers:
Looking for these centers for another grade level?
Report this resource to TPT
Standards
to see state-specific standards (only available in the US).
Recognize and draw shapes having specified attributes, such as a given number of angles or a given number of equal faces. Identify triangles, quadrilaterals, pentagons, hexagons, and cubes.
Partition a rectangle into rows and columns of same-size squares and count to find the total number of them.
Partition circles and rectangles into two, three, or four equal shares, describe the shares using the words halves, thirds, half of, a third of, etc., and describe the whole as two halves, three thirds, four fourths. Recognize that equal shares of identical wholes need not have the same shape.